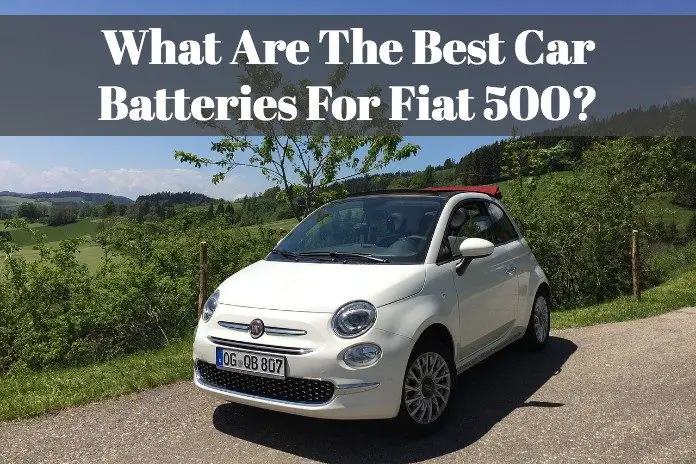 Fiat 500 needs a battery that will work to its advantage. A battery which can withstand the weather conditions and the hard-starting that goes with it during extreme temperature. You may use any battery with your Fiat 500.
However, you cannot guarantee that it will work and stay longer and stronger. Choose the battery that works compatibly with your Fiat 500.
What are the best car batteries for Fiat 500? I was able to gather the top three cells that are compatible with Fiat 500. Of course, any battery will do, but these three batteries will take your Fiat 500 driving experience to the next level.
These three batteries are Autocraft Gold, Optima YellowTop, and Autocraft Platinum batteries. These are the product of consumer reviews and the three best batteries, according to Fiat 500 users and owners who have tried and tested the battery.
Let us find out how these three batteries are the best to use with your Fiat 500. What makes these batteries stand out and become the most compatible batteries for Fiat 500. These batteries are all equally the same in strength and performance with a little bit of difference, which will set your decision making on which battery brand to choose.
List of the Top 3 Batteries for Fiat 500
1. AutoCraft Gold Battery, Group Size 51R, 500 CCA
This battery, Autocraft Gold are carefully designed and engineered to give you the maximum power for starting in extreme weather temperature. It will provide you with the convenience and confidence that your car will start no matter what the condition is outside.
This particular battery has exceeded or meet the car manufacturer's CCA requirement for your vehicles. It generally ensures that you get that high cranking power every time you start your vehicle. This battery has adapted the modern technology of the positive grid.
Pros:
● It is engineered with the PowerFrame grid technology. This kind of technology tries to remove failure and is proven to be durable
● It is corrosion-resistant compared to other grid design
● It gives you consistency in starting or revving up the engine
● It has a PowerFrame grid technology which allows a 70% more electric flow
● It is maintenance-free
● It exceeds the manufacturing requirements
Cons:
● Warranty issues
Product Specification:
Brand: AutoCraft
Model: 51R
Voltage: 12V
Width: 5.062 in.
Length: 9.375 in.
Height: 8.75 in.
2. Optima YellowTop Deep Cycle Battery, Group Size 51R, 450 CCA
The YellowTop Battery from Optima is a high-performance AGM cell. It is also the only power source and one of the dual-purpose battery available in the market today. Boasting its high cranking power and cycling capabilities, Optima battery is ideal for trucks and vehicles with high electrical load and cars with heavy equipment.
Pros:
● It uses SpiralCell Technology
● It has 99.99% pure lead, which delivers more power
● It outshines other conventional batteries
● It has three times longer lifespan than other batteries
● It has fifteen times of resistance against vibration
● It is spill-proof
● It can be mounted in different positions
● It has faster-charging capabilities
Cons:
● Reduced cranking power
● Warranty issues
Product Specification:
Brand: Optima Battery
Model: 51R
Voltage: 12V
Width: 5.02 in
Length: 9.312 in
Height: 8.937 in
Weight: 26 lbs
3. AutoCraft Platinum AGM Battery, Group Size 51R, 435 CCA
Autocraft Platinum is another AGM battery or Absorbent Glass Mat. It is specially made for power-hungry cars and vehicles. With this battery, you can expect an increase in its battery lifespan. It can now extend up to twice the life of a standard flooded cell.
This battery is ideal for cars that are densely loaded with electronic accessories like DVD players, radio, and other plugged-in accessories. Using the PowerFrame grid Technology, you can expect a stronger and more durable positive technology.
Pros:
● It has twice the life span of an ordinary battery
● It is made for vehicles with a high demand for electrical loads
● It is spill-proof
● It can be mounted in any position
● It can withstand extreme weather conditions
● It works against vibration
● It has a PowerFrame grid technology that eliminates failure of up to 66%
● It is maintenance-free
Cons:
● No known issues recorded
Product Specification:
Brand: AutoCraft
Model: 51R
Voltage: 12V
Width: 5.06in
Length: 9.375 in
Height: 8.937 in
Weight: 27lbs
What is the Battery Temperature Sensor for Fiat 500?
The battery temperature sensor of Fiat 500 is mounted on the terminal post of the battery. It is usually found on the battery side and measures the battery's temperature. The BTS or the battery temperature sensor sends a piece of accurate information to its charger nor controller.
It then automatically adjusts the battery voltage to make sure that your battery is fully charge depending on the temperature of the battery during installation.
What is the Common Cause of Battery Drain Problems for Fiat 500?
One common problem experienced by Fiat 500 is the battery drain problem. If you have done everything and it still encounters the same issue, then have an expert check out your battery.
It would be better also to do a thorough check into your vehicle and its battery. It could be a boot catch or your boot light that could be the culprit for this. It could also be possible that your cabin light or your self-dimmer light has a remaining open circuit even after the light has been turned off.
Better be sure that you have switched off the light entirely before you leave your car!
How Do You Reset the Start/Stop of Fiat 500 After a Battery Change?
Fiat 500 uses the modern technology of the start/stop feature. Well, you can try this system or method. You can quickly try by removing your battery from the ECU/ computer body.
This method is the simplest thing to reset your start/stop after a battery change. By removing the negative side of the battery, and leaving it overnight, the learned memory should be forgotten. It will take a new reading for the voltage, and the system is automatically restored.
Fiat 500 is a car make that employs the latest technology. It, therefore, requires a special battery that could keep up with its high demands. Knowing the best car batteries for Fiat 500 will keep you abreast of your car's performance and endurance.
I have laid down the characteristics of each battery. It's already up to you to decide and choose.