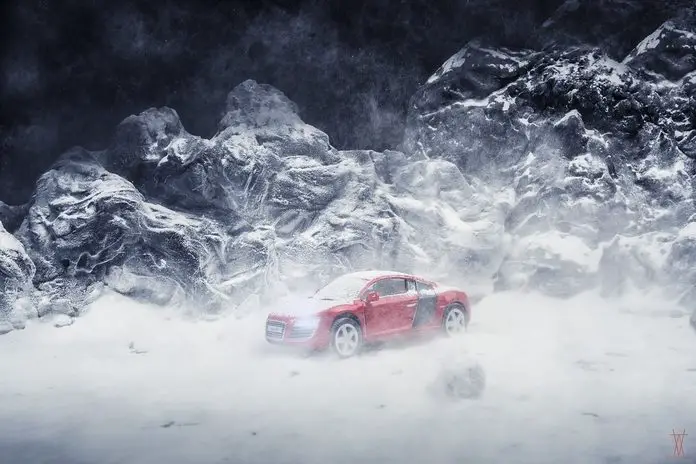 The newest thing (at least to me) in car battery care is a car battery warmer. My son got me one before the start of the winter season last year. You may ask, are car battery warmers worth it? I have the answer to that question and let me share it with you.
Are car battery warmers necessary or worth it? Necessary, maybe not, but worth it. Yes, definitely. It is a big help in protecting the battery from the freezing cold and prolonging its life. The warmer allows for a more efficient discharge of current and makes starting a car easier in the cold winter mornings.
In areas where the climate is more temperate, a car battery warmer is a nonessential, even a frivolity. But, if you live in a place where the temperature drops to as low as -20C or even lower, a battery warmer becomes a necessity. It prevents the liquids in the battery from freezing so that cranking up in the morning does not become a problem.
When the temperature drops to 0°F, a battery can suffer a 60% loss of its starting power. At this temperature, a cold engine will need more current from the battery to start it. These are two reasons that make it compulsory to use a battery warmer to help in the starting needs of your engine during the cold weather. (You many want to check this article).
Even a fully charged battery can lose a significant amount of power in a freezing environment. The car battery warmer allows the battery to maintain full cranking power despite the cold.
What Is A Car Battery Warmer?
In most states in America, winter can be brutally punishing with extremely low and freezing temperature. If you live in one of these states that get the worst winters, you must have experienced struggling with starting the car in the morning. It's not only a struggle for you but your engine as well as it attempts to crank up and get going. This is where a car battery blanket can be a God-send.
A car battery warmer is basically a low-heat blanket that you wrap around your battery to keep it warm during the cold winter months. It has a power cord with a plug that you can insert in any wall outlet or extension cord if you do not have an electrical wall socket in your garage. The blanket has Velcro tapes at the end to close it tightly around the battery.
Leaving the blanket plugged in and wrapped around your battery overnight will ensure that your battery performs without fail in the morning unless there is something else wrong with your battery.
In a freezing temperature, the fluids inside the battery tend to thicken and even freeze, slowing the process of generating and delivering current. The function of a battery blanket is to provide continuous heat to the battery to ensure that the battery liquids remain in a fluid state and not freeze over. This will make starting the car in a cold winter morning easier and faster.
Of course, you can always use a portable battery jump-starter and jump your battery if it refuses to start. But, why subject your battery to frequent jumping that could eventually have an adverse effect on your alternator, when you can prevent the problem from cropping up with the use of a battery warmer?
A car battery heater does not only ensure a quicker cranking and starting, but it also helps to prolong the life of your battery, lessen battery wear, bring about a more effective fuel economy, and even insulate your engine from damage due to the cold weather.
When the temperature is above the freezing point, a car battery warmer should not be used.
Best Car Battery Warmers Available On The Market
Just in case you're in the market for a car battery warmer, I have assembled six of the top selling products available on the market today to make your search easier:
Kat's 22200 80 Watt 36″ Battery Thermal Wrap
Kat is widely known for producing some of the best and popular car battery warmers. This product, the 22200 80-Watt Battery Thermal Wrap is one of its best products, and it comes highly recommended. It won't only keep your battery warm, it can also protect your car from the cold weather, and from all the other problems cold weather brings.
The Kat 22200 80 Battery Thermal wrap is quick and easy to install and comes in various sizes to suit most batteries. It has a vinyl cover to protect the battery from acid and oil for longer life. It wraps around a car battery to lessen the strain of starting the engine during the cold weather. This thermal wrap also prolongs the life of a battery. It weighs 12.8 ounces and its dimension 13 x9.5 x 8.5 inches/
Zerostart 2800063 Electric Battery Blanket Battery Heater Wrap
The Zerostart 2800063 is 36 inch, 160 watts,120 volts electric blanket heater wrap that you wrap around the battery to warm the core of the battery to 60°F to 70°F over the surrounding temperature to start your engine quickly. It is the perfect fit for batteries in series 24, 24F, 27, and 27F.
This is a new unit specially designed to perform in the coldest of temperature to considerably improve the starting efficiency and prolong the life of your battery in frigid weather. Some of the unique features that set it apart from other cheaper products are as follows:
● A molded rubber heater wrap and cord (unlike the cheap hard plastic of some of the competition) that won't crack and is more malleable even in frigid temperature.
● 3M's Thinsulate insulation that is patented and unique which improves the effectiveness of the heating element and keep the heat of the battery.
● A brass grommet that connects the cord to the blanket is supposed to prevent the insulation from tearing over time and extend the useful life of the heater
● Flame retardant and acid and oil resistant
● Easy and ready to install on a clean and dry battery
● A full 5" wideness for the entire 36 inches length for ultimate effectiveness
GM # 10952544 Battery Heater Blanket (80 Watt)
The GM #10952544 battery heater is a genuine GM OEM auto part. It is a Thinsulate battery blanket that helps preserve the battery's temperature for a reliable start in the cold weather. It is an 80-Watt battery heater blanket that is suitable for batteries measuring 32" – 38" in perimeter.
This heating blanket is quick and easy to install. All you need to do is wrap the blanket around the battery and plug it to any standard outlet, and it will keep your battery heated all year-round.
Kat's 22400 60 Watt 5.5″x 8.5″ Battery Pad Heater
This is another of Kat's outstanding product, the Kat 22400 60-Watt Battery Pad Heater. This is not the blanket type heater but a heater pad that fits almost all truck and car batteries. It comes in several sizes in both 240 volts and 120 volts.
This pad heater is silicone covered as protection from oil and acid and is flexible enough for easy and quick installation. You don't need mechanical ability to install this pad heater. It weighs 5.6 ounces and with a 15 x 9.5 x 8.5 dimensions.
Kat's 22400 battery pad heater will not only help you start quickly and with ease in a cold winter morning, but it will also extend the life of your battery.
Zerostart 3400066 (Wolverine Model BH60CSA) Silicone Pad Battery Heater
The Zerostart 3400066 Silicone Pad Battery Heater is also the Wolverine Model BH60CSA. It is a 60-Watts 120 volts heating pad with a slim design meant to fit in the battery tray or box. It is intended to sit under the battery to keep it warm. When used with the transmission and oil heaters, all three tools or devices will ensure that your car is ready to go whenever you are.
What this heater pad does is to preserve the battery's available CCA (cold cranking amps) during the cold weather by keeping the battery warm. It also helps to extend the life of your battery.
This heater pad is made of a silicone material that is resistant to acid and oil and should not be used in a battery box that is insulated. It should not also be used for lithium-ion batteries and not recommended for use when the temperature is more than 50°f (10°c). It weighs 6.9 ounces with a dimension of 8.5 x 5.5 x 0.2 inches.
DEI 010480 Cell Saver
The DEI 010380 Cell Saver is a perfect choice for a car battery warmer. It is capable of withstanding temperatures up to 2000°F and in absorbing and neutralizing acids that leak from the battery. This cell saver does not only heat the battery, but it is also a protection from overheating and vibration that are prime causes of an early demise of a battery. It keeps your battery warm in the winter and protects it from heat and hazardous leaks in the summer.
The difference between the DEI 010480 from other car battery warmers available on the market today is the absence of power source in this product, It totally depends on its thermal insulation to provide and keep the heat in cold weather.
Conclusion
I don't think that the right question to ask is, "are car battery warmers worth it?" It definitely is worth it, if you live in that part of the USA where the temperature drops to several degrees below zero in the winter. Maybe, what you should ask is, "are car battery warmers a necessity or are they indispensable?".
Car battery warmers are not a necessity, but how convenient it will be for you if you have one. Starting in the morning during the cold winter mornings will no longer be a struggle.