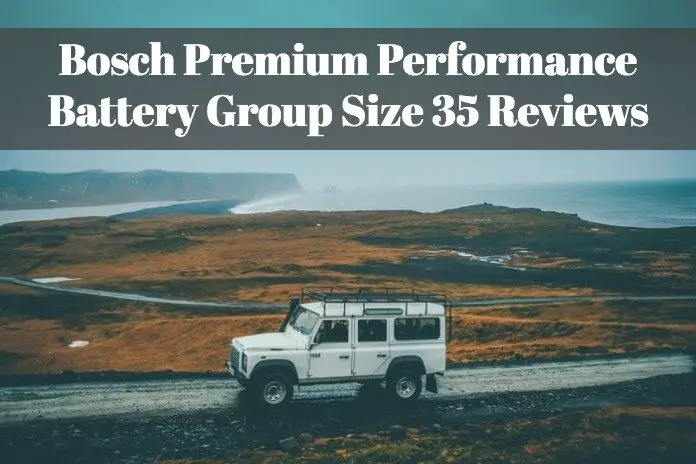 We all know that Bosch has made a name in the battery industry. At the moment, it has been a household name for most appliances, gadgets, and automotive tools. It has maintained the right name in the world market and is continuing to do better in the business in the coming years.
One of the best things that Bosch has been very proud of is its Premium Performance Battery Group Size 35. There is something in this battery model that made it famous and best-selling in the market today. Bosch Premium Performance battery group size 35 reviews will speak for itself regarding the output and performance of the battery.
What is the Bosch Premium Performance battery group size 35? Bosch Premium Performance Battery Group size 35 is a top of the line product from Bosch Industries. It is one of the premium battery which has undergone several testing for Consumer Reports.
It has been evaluated based on the criteria of lifespan, reserve capacity, and CCA. Bosch Premium Performance Battery Group size 35 has surpassed all the test with flying colors and is now named as one of the most excellent batteries of Bosch.
History of Bosch Battery
Initially, Bosch started in the battery industries in the year 1927. They were one of the first company who established the business early on. During that time, car battery cases were made of hard rubber.
It was in the year 1955 when the black housing still made of plastic was introduced for car batteries. Bosch converted the hard rubber to plastic housing for car batteries in the year 1962. It was finally replaced in 1966 when the direct cell connectors were introduced.
Review for Bosch Premium Performance Battery Group Size 35
Bosch Premium Performance Battery Group Size 35 is crafted explicitly for extended usage and life span. For almost 80 years in the business, Bosch has gone through many technological advancement and innovations.
This particular car battery group size35 can surpass quality standards and performance. It is specifically designed to give the maximum amount of CCA or Cold Cranking Amps to meet your car's expected specifications. It will work even during winter or on a hot summer day. This battery is simply the battery you can depend on.
Key Features:
● It is designed with a grain structure resistance that will work against sulfation and extend its lifespan.
● It has a long life technology which lessens water loss and prevents against corrosion.
● It is maintenance-free.
● Its replacement battery can give you dependable power during extreme weather conditions.
● It can provide a wide array of coverage for the upper class domestic and other segments for imported cars.
● It offers a three-year replacement for free.
● It also promises to give you a three-year emergency jumpstart for free.
● It is one of the best premium battery.
Cons:
● Some batteries failed before the warranty period.
● It has a failed cranking power.
Product Specifications:
Brand: Bosch
Model: Premium Performance Battery Group Size 35
Cranking Amp: 770
Reserve Capacity: 100
Weight: 36.6
Voltage: 12V
How Does Bosch Premium Performance Battery 35 Differ from Other Group Sizes?
Bosch Premium Performance battery size 35 is the finest of its kind. For one it has the "No-spill" feature and the "mount in any orientation" type of battery. It also highlights the most extended lifespan for a car battery.
Other brands in the group size 35 claimed that it can withstand the toughest cranking situation and can withstand any weather condition. However, after several months of usage, it still failed.
Bosch Premium Performance Battery Group size 35 does all that. It is maintenance-free and has the most durable cranking power needed for the toughest situation and even in the most extreme weather condition.
What Are the Consumer Reviews on Bosch Premium Performance Battery Group Size 35?
Based on different consumer reviews on Consumereports.org, Bosch has been receiving a lot of positive reviews and comments about the Premium Performance Battery Group size 35. Many consumers claimed that Bosch fulfills what it promised to the consumer.
The consumers report about the long-lasting power of Bosch battery. The longer lifespan and high cranking amps of Bosch Battery made it a better competitor in the market today.
What Does Battery Group Size Refer to?
Battery Group size refers to the physical size of the battery. The physical dimensions and the terminal locations are the ones that determine that group size of your battery. It is the Battery council International which gives the assign letters and numbers for the battery's group size.
The group size is generally based on the make of the vehicle, its model, and engine type. Though your car can accommodate more than one group size, it is advisable that you used the one that is specified for your vehicle. You also have to make sure that your new battery will be able to fit in the battery compartment.
What Are the Different Battery Group Sizes?
● Side-Post Battery. Some car manufacturers use a particular group size. An example would be General Motors, which uses a side-post battery. A side-post battery has its cables screw to the battery's side. These group sizes are 70,74,75 and 78.
● Top-Post Battery(Recessed). A top-post battery is an international battery style where the post of the battery is equal to its height. Most batteries in these group size have a ventilation system which is part of the battery. It is installed in the vehicle's trunk or under the seat. Group sizes 41,42,47,48 and 49 belong to this type.
● Standard Top-Post Battery. Most Japanese and American made cars and vehicles are using the standard top-post battery. It is the most common type of battery group size. It is the normal type of battery for most people.
Since it is common, it is easier for replacement purposes. 24, 24F, 25, 34, 35, 51, 51R, 52, 58, 58R, 59, and 65. Bosch Premium Performance Battery size 35 belongs to this group.
How Long Does Bosch Offer for its Warranty?
Bosch offers a three-year warranty for all its batteries. The length of the warranty varies from one product model to another. A premium performance battery has a three-year warranty. Quality performance battery gets a two-year, and Value Performance Starter batteries have a one-year warranty. After claiming your warranted product and you opt for another replacement, Bosch will compute the refundable amount based on Pro-rata.
Bosch Premium Performance Group Size 35 Review will tell you how this particular battery model performs and does its duty well. The excellent performance of this battery will make your vehicle more efficient.
Sources:
1. Bosh Premium Power 35-640B car battery – Consumer Reports
2. Bosch Batteries: Optimum Starting Power for All Vehicles – Bosch Auto Parts