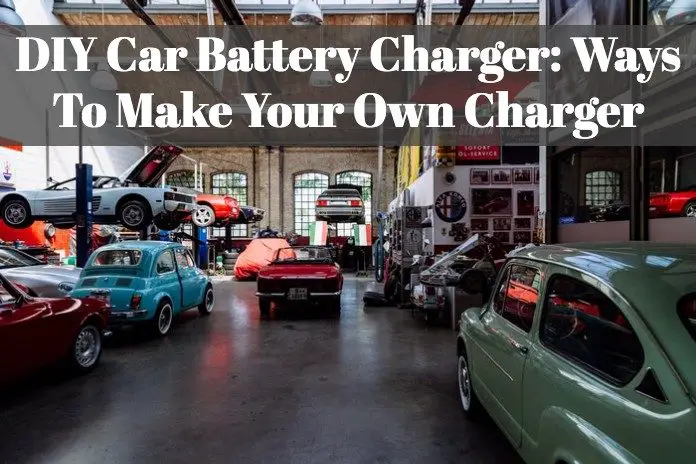 The car battery charger is a must for every car owners. It is essential that you have your battery charger in your home and wherever you go to make sure that you have a back-up plan in case your car gets stalled.
What is a DIY Car Battery Charger? DIY stands for Do-It-Yourself car battery charger. You can customize and make your battery charger by using different types of power supply you have at home.
Power supplies that are not in use from your old computer sets can be converted to your own car battery charger.
How To Make A 12V Car Battery Charger At Home
There are different ways and method in which you can make your battery charger at home. One popular way to create your Do-It-Youeself car battery charger is by using your old computer's power supply. You can convert this to become your car battery charger at home.
1. Using PC Power Supply
The PC power supply can now be converted to be used as a car battery charger. A DIY car battery charger is simple and easy to use.
You don't have to spend too much on your car battery charger. This improvised tool can help you a lot and save you a lot of money.
Here is you can follow the step by step below:
1. Get the yellow wires and connect it to the connector. It will serve as your 12V. Repeat the same for the black wires, which is going to be contrary. Now you have your connectors.
2. Plug the charger on. Your 12V in your power supply is not going to be your primary voltage.
3. Connect the wire to the resistor and on the 5V cable which happens to be the red one. The easiest way to do it is to connect the black and red wires to a car light bulb with a 12V, which is going to be your resistor.
4. Short wire the black and the gray wire together. It will tell you that the power supply is already turned on. Wire colors vary from power supply units. See to it that the power supply is on.
5. Click the power supply unit on, the group should start working, and the fan should start spinning, and the light bulbs must be turned on.
6. Connectors must be checked with a multimeter.
Tools you need:
● Smps power supply
● Power extension wires
● Multimeter volt check
● 12V battery connector
● Three pin power wire
● Battery connector
2. Using At/ ATX Power Supply
Another way to make a car battery charger on your own is to use an ATX Power Supply. The ATX power supply can be a powerful car charger. You will only need an ATX power supply with a specified controlled circuit. It could be anything between TL 494 or an equivalent of KIA494, DBL494 or GL494.
Tools you need:
● Resistor of 15K
● LED
● 680 Resistor
● Potentiometer
● Connector clips
Follow the steps below:
1. In making the charger, you will need the potentiometer in Pin 1 of the 494 or any equivalent there any and the resistor of 15k in line with the negative.
2. Adjust it to 13.8 V, and you can say that your charger is ok. If you can't use 13.8V, then try to change the 15K resistor to a 10K.
3. Your charger is now ready to use. You can help the environment by reusing your old ATX or Power supply.
3. Creating A Solar Car Battery Charger
A solar car battery charger is one of the most practical ways you can save your money. Having your solar battery charger is a useful idea. But it would be more exciting to create your own solar car battery charger.
When your vehicle is to be stored for a long time, your battery will start to discharge. Having a solar panel is a practical way of maintaining the car battery's charge. Choose a solar panel having a high power rating that you can conveniently place in your car's windshield or hang on your window.
Find a solar charger that you can easily use by plugging into the cigarette lighter. Most of the time, panels such as this are used trickle chargers, but if you have a large battery, there is still the danger of overcharging.
However, these solar panels rarely have a case of cheating. You will no longer need a charge controller.
Is It Possible To Charge A Car Battery From A Wall Outlet?
Yes, it is still possible to charge a car battery from a wall outlet. However, you still need to use a car battery charger. There are, however, some minor differences in the way car chargers work. The process is just the same.
You can charge your battery in your car if you are residing in an urban area. You have to remove the battery for billing purposes. Make sure that you charge your battery either outside or in your garage just in case your battery will overheat and explode.
Always remember to follow the safety precautions when charging your battery to reduce the explosion risk in happening.
Here is how to use a wall outlet to charge a car battery:
Step 1: First, you have to fill the battery with distilled water up to the internal plates. This process is not necessary for sealed and maintenance-free batteries. Do not overfill the battery. The acid of the cell expands when charging.
Step 2: Make sure that remove any jewelry when performing this process. It is to reduce the risk of burning when there is a short circuit failure.
Step 3: You have to connect the red wire to the positive terminal of the battery. Shake the connector for a few times to ensure that it is securely in contact with the post of the cell.
Step 4: Try to connect the black wire to the negative terminal of the battery. Again, shake the connector to secure it properly to the battery terminal.
Step 5: Ensure that gasoline and other flammable substances are not near the battery and the charger, nor were they sitting in other fire hazards like rags and newspapers.
Step 6: Follow the manual instructions that come with your charger and plug it into your wall outlet. Presto! You are done and have successfully used the wall outlet for charging your batteries.
Tools you need:
● Battery charger
● Distilled water
● Battery to be charged
Are There Any Places That You Can Buy DIY Battery Charger Kit?
There are many different places or auto shops where they sell DIY battery charger kits. They offer a variety of choices for your battery charger project.
Here are some of the stores that provide the battery charger kit for your DIY project.
1. At Amazon.com. They have a variety of DIY battery charger kit. You can order these kits online. You may also view their products over their website Amazon.com and compare them with the other products.
You should base your decision on the product specifications and the reviews of the people who have used and tried the product. It is a tested and foolproof way of getting the best product online.
2. Bangood.com. This is another online portal that offers DIY battery charger kit. Just like Amazon.com, Bangood delivers their product online. They sell battery car charger kits online.
Best DIY Auto Battery Charger Models You Can Buy From Amazon
1. Fidget Engine Battery Charger DIY Kit 1. You can feel that sense of accomplishment with this DIY Fidget Engine battery charger kit. After completing the DIY assembly, you can also use it as a jump starter kit.
It can power gasoline cars and vehicles. It can also make a vehicle work even when the battery is already depleting.
You can also use it as a power bank in your electronic devices like mobile phones, iPhone and iPod, and many more. It comes with an LED which can provide enough lighting during the night time.
Pros:
● You can use it as your jump starting kit also.
● It can power gasoline cars and vehicles.
● It can power up even when the battery is already dying.
● It can be used as a power bank.
● It comes with an LED.
Cons:
● Warranty issues.
Product Specification:
Brand: Fidget engine
Model: DIY kit
Output: 5V/ 2A
Input: 15V/ 1A
Charging time: 4 hours
2. SUNWALK 5W 12V DIY Battery Charger Kit. This Sunwalk DIY Battery Charger kit is built with high efficiency in a small solar battery. It can be modified into a more significant load, which includes a much bigger voltage and charges.
It comes with a small portable size with a creative casing. These solar-powered batteries can give power to convenient household use with free green energy coming from our sun.
Pros:
● It is a DIY solar battery charger.
● It comes in a small and portable size.
● It has a creative casing.
● It is a PE film protected.
Cons:
● Warranty issues.
Product Specification:
Brand: Sunwalk
Model: 5W 12V
Can You Only Use 12V Charger To Charge A Car Battery?
Of course, you may charge your car battery with a 12V charger, but you will have to wait for at least 24 hours. It is the prescribed time to get the battery a decent charge. It also depends on how discharged your battery was.
DIY car battery chargers are a bright idea. It can help you save a lot of money, and at the same time, you can have something that could guide you on your way to work or school. You will never have to worry about stalling in the middle of nowhere.