Looking for the right marine battery to perfectly fit and suit your needs is like looking for the right players to surround Lebron James to help the Cavs win the NBA Finals. You have to consider what the skills, strengths and salary cap of every player for each position to make sure that the roster will have the team chemistry needed to increase your chances of claiming the Larry O'Brien trophy.
As for the picking the right marine battery, you will have to consider the several aspects and the budget you are working with to ensure that your boat will deliver high performance.
Here we are going to provide some Interstate marine battery reviews to help you in your search for the right battery that you need. It's like providing you various player resumes that you can examine to choose the right players that will compliment LBJ's game to help him claim his 4th ring.
In general, Interstate marine batteries are considered to be a good choice because they are very reliable and they are cheaper compared to the premier brands. These are budget friendly batteries that have the toughness to last and deliver good performance.
However, we have to keep in mind that nothing permanent. In basketball, LBJ will eventually age that will reduce his physical abilities and fade leading to retirement. Marine batteries are also the same, once they reach their guaranteed cycle their ability to store charge and provide power will also deteriorate then die.
In cases like these, you can either spend some big bucks to purchase a replacement or go for the cheaper option and save some money.
---
---
The Different Types Of Interstate Marine Battery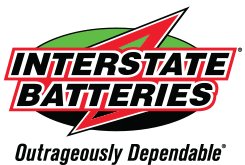 As a well-known brand in the battery industry, Interstate Batteries is a company that offers all types of batteries including marine batteries. It offers a wide range of marine batteries categorized as starting, deep cycle, dual purpose and personal watercraft to cater to specific needs and various applications.
Considered to be one of the most trusted brands throughout the entire battery industry. You can expect every battery with its name are engineered and built to be tough, durable and extremely reliable, promising longer service life as well as optimum performance.
To allow you to examine all the marine batteries in the Interstate Batteries' product line. The following sections below will provide you a brief review of each battery models under their corresponding battery types.
Marine Starting Batteries
Same as an automotive battery, a marine starting battery is specifically designed to start the boat's engine. However, it is also engineered to power other devices or electrical components on the boat.
This requires a starting marine battery to deliver a short jolt of energy to start the engine and sufficiently supply enough energy to power other electrical components.
To help you pick the right Interstate marine starting battery for your boat, you can get to them by checking out the battery reviews below:
Built and engineered to be tough and highly durable, this 24M-HD marine or RV starting battery of Interstate can withstand any rugged conditions. Designed to deliver excellent performance under rough conditions, it will allow you to spend more time in the outdoors or the water.
With a 625 cranking amp and 500 cold cranking amp ratings, this battery also offers a 95 Ah reserve capacity at 25 amps.
This battery weighs 39.7 lbs, and it belongs to the 24MS group size, and it has the dimensions measuring 11 x 6.875 x 9.5 inches. Upon purchasing this battery model, it will be entitled with a twelve-month FREE replacement warranty.
Slightly less powerful than the first model. Interstate's 24M-RD model of marine or RV starting battery is the ideal choice for smaller boats with low electrical loads.
Offering a cranking amp rating of 500 amps and a cold cranking amp rating of 400 amps, this battery is built to be tough and durable. With a reserve capacity of 75 Ah at 25 amperes, this model offers long runtime to boost productivity.
Weighing at 37.3 lbs this marine/RV starting battery has the dimensions 11 x 6.875 x 9.5 inches which makes it under the 24MS battery group size. With a one-year free replacement warranty included upon its purchase, this 24M-RD model can be a great option for replacing marine starting batteries of smaller boats.
Offering a whopping 1000 amp cranking amp rating as well as an 800 amp cold cranking amp rating, this 24M-XHD marine starting battery from Interstate is a powerful beast. Built with the patented "Interstate Toughness", this beast will have no problems when it comes to starting your boat's engine even cold weather conditions.
Promising a 135 ampere-hours reserve capacity at 25 amps, this highly reliable and very durable battery also offers longer operations and better productivity.
With dimensions measuring at 11 x 6.875 x 9.5 inches and a weight of 44.6 lbs, this beast of a battery still belongs to the 24MS group size of batteries. This battery also includes a one-year free battery replacement warranty as long as the qualifications are met.
As highly reliable and heavy-duty battery that can power bigger engines, this battery model is the most prefered product from the Interstate marine starting battery product roster.
For larger-sized boats with heavier electrical loads, a larger and more powerful battery is the ideal choice. Interstate's 27M-XHD battery model is the meanest and toughest in marine starting battery lineup.
As the largest battery in the entire roster, this mean beast is capable of providing a cranking amp rating of 1000 and a cold cranking amp rating of 800. This battery is also designed to have a reserve capacity of 182 Ah at 25 amps.
The dimensions of this battery are measured at 12.75 x 6.75 x 9.5 inches, and it weighs 53.6 lbs putting it under the 27MS group size. Highly reliable and tough this 27M-XHD marine starting battery is well capable of providing enough energy to start large engines and supplying a sustained amount of energy to support many electrical components.
Marine Deep-Cycle Batteries
In contrast to marine starting batteries, a marine deep cycle battery designed to have less instantaneous energy, but greater sustained energy delivery. This type of battery is built to have thicker battery plates, making them suitable for long-term discharge operations.
It also allows this type of battery to survive more charge-discharge cycles. Designed to supply a sustainable amount of energy for long periods of time, deep cycle batteries are the ideal choice for supporting the entire electrical grid of RVs and boats.
Boat deep cycle batteries are commonly used for starting trolling motors and supplying enough electricity to power various accessories such as fish-finders. If you are looking for the right deep cycle battery for your boat, let me introduce you to Interstate's SRM deep cycle series.
Interstate's SRM-24 is a highly reliable deep cycle battery perfect for running an electrical network. Designed to make sure that your RV or boat will have the comforts of home.
This battery is capable of providing enough electricity for lights, cooking appliances, and various trolling electrical equipment. It offers a 690 cranking amp rating as well as 550 cold cranking amp rating along with a 140 Ah reserve capacity at 25 amps.
With dimensions measuring 11 x 6.875 x 9.5 inches and weighing in 46.3 lbs, this battery is under the 24DC standard battery group size. Priced at less than $120 with a twelve-month free replacement warranty. This SRM-24 deep cycle marine battery from Interstate is an ideal power source for boats with light to medium electrical loads.
Second in the lineup of the Interstate marine deep cycle battery SRM series is the SRM-27 model. Like all Interstate batteries, this battery model is built to deliver excellent performance, longer runtime, and excellent durability. It can provide up to 750 cranking amps, 600 cold cranking amps and it has a reserve capacity of 160 Ah at 25 amps.
The SRM-27 marine deep cycle model weighs 50.3 lbs, and it has the dimensions measuring 12.75 x 6.75 x 9.5 inches. It belongs to the 27DC standard group size, and it is capable of running a network with a considerate amount of electrical load. Making sure that you will have the power and the endurance that you need to keep going.
The SRM-29 deep cycle battery model from Interstate is a very reliable and versatile battery is designed to deliver increased cranking amps and to have deep cycle capabilities.
This is a flexible battery that can be used in boats as well as RVs. Aside from its ability to supply sustained energy for the electrical grid it also offers an 845 cranking amp rating and 675 cold cranking amp rating for starting. The reserve capacity of this battery is 210 Ah at 25 amps which means longer runtime and excellent productivity.
This battery weighs 59.7 lbs with dimensions measuring 13 x 6.75 x 10 inches putting it under the 29DC standard battery group size. As one of Interstate's most popular battery models, this SRM-29 deep cycle battery is the ideal choice for running large networks of electrical components.
Popularly used in sailboats, Interstate's SRM-4D deep cycle battery model provides the power and endurance that you need to survive the long haul. This powerful and versatile beast can deliver high cranking amps for starting and at the same time support large networks of electrical components and accessories.
It features a whopping 1645 cranking amp rating and a massive 1314 cold cranking amp rating along with its 390 Ah reserve capacity at 25 amps. Allowing it to easily start motors or engines even in cold weather and power multiple accessories and equipment whether the engine or motor is running or not.
This SRM-4D deep cycle model has a weight of 117 lbs and dimensions measuring 21 x 8.25 x 10.375 inches. It is considered to be under 4DDC standard group size. Despite being the heaviest and bulkiest model in the entire battery roster of Interstate. This model is a powerful beast that can start any motor or engine out there!
It can also support massive and complex electrical grids for long periods of time. Tagged with a very reasonable price along with the included twelve-month free battery replacement warranty, this battery is a good investment that will help you keep grinding.
Dual Purpose Marine Batteries
Dual purpose marine batteries are built with thicker and larger plates that give them more antimony compared to marine starting batteries. They also feature a dynamic and vigorous lead paste chemistry that enables them to tolerate deep discharge operations.
However, dual purpose marine batteries offer lower storage capacity making it hard for them to keep up with deep cycle batteries. Although, this type of marine battery has a shorter life expectancy and can't offer the best performance.
Its unique chemical structure and build can be suitable and very useful in various situations because they work very well in some applications.
With its high antimony and ability to tolerate deep discharge operations, dual purpose marine batteries are very useful in some situations. Small powerboats and runabouts that use only one battery for starting and supporting their electrical loads when the motor is not running may benefit more in dual-purpose batteries.
Some sailboat owners that uses two interchangeable batteries for starting and house loads prefer using them because they are more versatile and flexible in this kind of situation. If you think that this type of battery is the one you need for your application, take a look at Interstate's dual purpose marine battery selection listed below:
The 31M-AGM Interstate dual purpose model is a Pure Matrix Power AGM battery designed to handle both the cranking task and running the electrical grid when the engine or motor is off. It is equipped with the most efficient battery plate design using pure, non-alloy lead.
Allowing it to have a longer life compared to traditional alloy AGM batteries and faster charging rate. Offering a reserve capacity of 190 Ah at 25 amps and 100 Ah at 20 amps, it also has an 1190 cranking amp rating and 800 cold cranking amp rating. Making it one of the most sought-after batteries of its kind available in the market today.
With its 69 lbs, weight and dimensions measuring 13 x 6.8125 x 9.4375 inches, this battery belong to the 31DP group size. The 31M-AGM model is also considered as one of the top dual purpose marine batteries of today which makes it an excellent investment to back your boating adventures.
Another great thing about this model is that Interstate is very confident about its features that they are backing it with a three-year free replacement warranty.
Interstate's dual purpose marine battery model for the 34DP standard group size is the 34M-AGM. Also built with pure, non-alloy lead plates sophisticatedly arranged according to the most efficient plate design.
This Pure Matrix Power AGM power cell has the cranking amps you need to start a motor or an engine and the ability to run all the comforts of home without a running engine. It has a 1000 CA rating, an 800 CCA rating with reserve capacities of 62 AH at 20 amps and 125 Ah at 25 amps.
The length of this power cell measures 10.8125 inches, its width is 6.75 inches, and its height is measured at 7.875 inches. This 34M-AGM dual purpose marine battery also weighs 47.2 lbs which are lighter compared to most of its competitors.
With a longer service life to offer along with high cranking rates and excellent three-year replacement, this dual purpose battery is one of the most preferred models for RVs and various boating applications.
The HD24-DP battery model of Interstate is a very popular product widely used in small boats with low electrical loads. It is a highly reliable and tough dual-purpose power cell that can deliver 505 cranking amps and 405 cold cranking amps for starting.
With a 100 Ah reserve capacity at 25 amps, this dual purpose battery is very much capable of supporting a network with a number of components when the motor is not running.
Featuring a battery length measured at 11 inches, 6.875 inches width and 9.5 inches height this HD24-DP model is under the 24DP group size with a weight of 41.2 lbs. At a decent price tag that includes a twelve-month free replacement warranty, this dual-purpose marine battery model can be a good compromise in some situations.
There you go!
You are now familiar with Interstate's entire marine battery product line. You can now start analyzing the whole situation and start your campaign to get the best battery for your boat to enjoy pleasant and smooth sails.
Remember, picking the right battery type of marine battery will boost the performance of the vehicle but it doesn't guarantee that you will enjoy it for years. At some point, the battery you purchased may fail, especially if not properly maintained.
Better to prepared for these moments and start learning how to recondition batteries on your own to save money.
Personal Watercraft Interstate Batteries
When it comes to personal watercrafts such as water scooters, jet skis, and various recreational water vehicles. They are manufactured by different companies, and some of these vehicles require specific compatible batteries.
Interstate covers almost all of them but giving a review for each of them will be impossible in one article. However, to give you an idea about Interstate's personal watercraft battery product line. Listed below are the three different categories they offer and based on the model of your watercraft, the best compatible battery for it will be under one them.
● Factory Activated AGM Powersports – These are factory activated Powersports batteries with an absorbent glass mat chemical structure. They will come fully charged, firmly sealed and ready to use. Featuring a "plug and play" design, these batteries are very easy to install, and they can be mounted in any position without the risk of leaks and spills to eliminate the risk of injuries.
● AGM Powersports – Interstate's AGM Powersports batteries feature firmly sealed battery housings, acid packs and a spill-proof technology for safer use. These power cells are maintenance-free and permanently sealed after they are filled with battery acid. You won't have to check the water level of these batteries and refill them.
● Conventional Powersports – These Interstate batteries are built and engineered to offer elevated cranking power that comes at great values. They can be ordered with or without included acid packs, and they include a six-month free replacement warranty.

To make your search easier, Interstate's website has a battery finder where all you have to do is to provide the significant information of your watercraft. Then it will return with a list of the best compatible with your device. Using this more convenient but it is important that you input accurate details to make sure that you can get the most suitable batteries and avoid any future issues.
Conclusion
Now that you are introduced to every Interstate marine battery available in the market. You will now have the proper knowledge that you need to see what batteries are potentially suitable for your needs and applications.
But the best thing about it is that it will help you identify the best suitable marine battery that will be the perfect fit for your needs from those potential choices. It will also be ideal to teach yourself how to recondition a battery because it will help you a lot in situations with a failing battery.