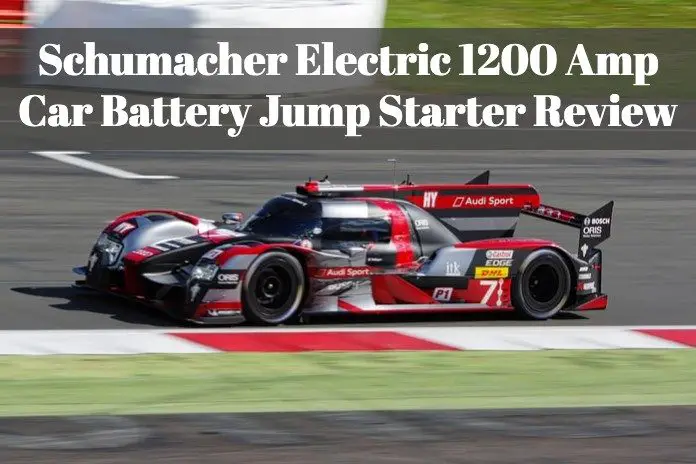 All motorists and car owners know the difficulty of experiencing a dead battery down the road. It would sound fine if you stalled in a nearby city where there are plenty of passersby. It would be horrifying if it happened to you in an isolated place where you cannot call for help.
That's when you get to mind the importance of having a car battery jump starter for your own something you can use in case of an emergency.
What is a Schumacher electric 1200amp car battery jump starter? Schumacher is the leading name in car batteries, chargers, and jumpstarters. Their 1200 car battery jump starter is what your battery needs to boost its power and energy. Its 1200 amps have several other features that make its use comfortable and with ease.
It comes with an AC/DC plugs and a USB port. It is a handy and portable car battery jump starter you can carry on anywhere. You need not worry about your feature road trips with the jumpstarter from Schumacher.
It is with great convenience to carry your own portable car battery jump starter. The worries about having a dead battery while on the road can be taken cared of with ease. Schumacher battery jump starter can deliver the power for your battery to jump alive again. Road trips can be a lot easier with a handy portable jump starter at hand.
Pros and Cons of Schumacher Electric 1200amp Car Battery Jump Starter
This product is specifically built for a heavy-duty starting. It is equally perfect for car and vehicle engines which have a robust battery. This car battery jump starter has two AC outlets and a USB port.
It can provide 1200 amps to jumpstart your cars and vehicles in an emergency. It has a digital display monitor where you can see and view the charging level and the voltage of each battery. It also has its built-in light.
Pros:
● It has 1200 amps for its jump starting power.
● It comes with a USB port to charge your devices.
● It has a digital display where you can monitor the charging level of your battery.
Cons:
● The compressor is not working well.
Product Details:
Brand: Schumacher
Model: SJ 1332
Item Weight: 10.6kg
Product Dimension: 35.6 x 33 x 33 cm
Why Should I Buy a Schumacher Electric 1200amp Car Battery Jump Starter?
Buying and owning a car battery jump starter is not a luxury. It is a must-have for all vehicles and car owners. To get the best out of your money, you need to choose a jump starter which has an excellent value for money and superior performance. That's when the name Schumacher came into view.
Schumacher holds the name in the field of battery and jumps starters. According to this brand users, they are pleased to own one. They view it as more convenient and helpful when their batteries are getting weak and low.
The Schumacher jump starter is not only good for cars. It can also be used for trucks and other heavy-duty vehicles. It has an automatic switch that turns off any overcharging immediately. You will never wonder or guess if it's going full charge or not. It comes with a digital display that will tell you the status of your charging battery.
There is simply a lot of reason why you should buy Schumacher car battery jump starters. It's because it is not just any brand, it is Schumacher, and the name itself says it all.
This Jumpstarter with Air Compressor and Tire Inflation
This particular brand from Schumacher electric 1200amp jump starter receives a lot of positive reviews from its online users.
Here's one:
According to one user: It is more convenient to use the jump starters. It can save them time from going to the gas station for inflating the tire. The built-in compressor that comes with it is a helpful tool for every car owner.
Another one was quoted saying, " it was a lot more convenient than going to a gas station to inflate your tires." The users were satisfied with the results of using and having a Schumacher Electric 1200amp. The automatic switch is another feature which people cannot resist.
They don't have to monitor the charging 24/7 because it has an electronic switch that turns off the load to avoid overheating. There were several satisfied users for Schumacher Jump Starters.
How Much Does a Schumacher Electric 1200 Amp Jumpstarter Cost?
You can easily buy your own Schumacher electric 1200amp jump starter at any auto shop or battery stores. You may also purchase online. The average cost of this battery jumpstarter is marked between $150 to $ 300. In Amazon.com, Schumacher electric 1200 amp jump starter costs $169.99. You may say it is a little bit pricey for a jumpstarter.
However, the price compensates for everything that you needed and wanted in your car. Another thing is the quality. Schumacher assures you that quality and performance is their number 1 priority.
What Should You Consider When Buying a Jump Starter?
There are several things that you need to consider when buying a jump starters. Read on to find out.
1. Know the type of starter that you need. Know which type you are going to use. There are three types of jump starters: The jumper cables, the battery chargers, and the portable jump starters. Determine which one is going to be the most useful for you and the most convenient too.
2. The cost of the unit. You must know that the price does not determine the effectivity and quality of the product. There are many cheaper products out there where quality and excellence still stands out.
3. Jump starter size. It is essential to know the size of the jump starter you want to buy. These portable jump starters come in different sizes. The size matters. The smaller it is, the better for you.
4. The Specifications for Charging. It is equally important to know that the charger or jumper starter you bought will be powerful enough to bring back your battery to life. The more amps it has, the more powerful it is to resuscitate your dead battery.
5. Warranty. All products must come with a warranty. You have to make sure that the product you bought is not going to waste your money and time. A reasonable warranty period will ensure that it is guaranteed to work on a specific time.
With everything that we have presented to you, Schumacher Electric 1200amp car battery jump starter is one of the best choices you have. All the power and best features are found on this product.