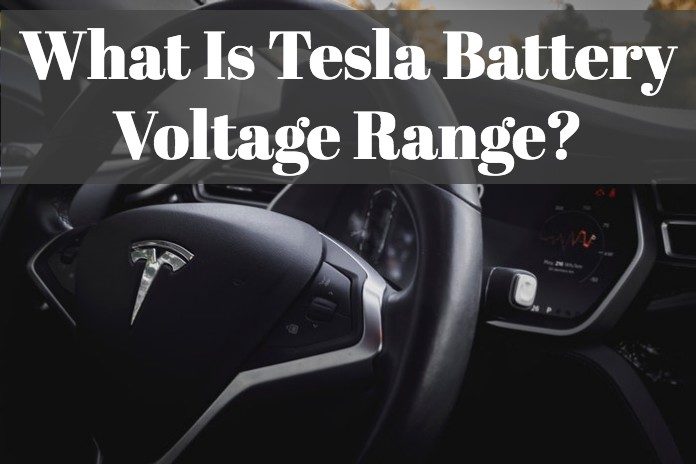 Tesla batteries are rechargeable lithium-ion batteries. Tesla manufactured Powerwall and Powerpack batteries. Powerwall Tesla batteries are for home storage and to make storage for electricity to be used for personal consumption. Powerpack is larger than Powerwall and is made for commercial purposes.
What is Tesla battery voltage? The Tesla car battery voltage differs for each models. Model X and S have 375 Volts while Model 3 has 350 Volts. These are not the final voltage for Tesla batteries because electric cars have packs which are made up of several cells. Every battery packs are configured differently.
Tesla car batteries range differently in terms of voltage, but the ones I have mentioned above are the average voltage for Tesla models. You have to remember that Tesla has only one source of power, and it is the battery pack that it has.
Different Type Of Tesla Battery Voltage Range
As I have mentioned earlier, Tesla designs different power voltage for each battery type. We have to know the battery type first before we can identify the energy that Tesla uses in that battery.
1. Tesla Powerwall Input Battery Voltage
Tesla's Powerwall batteries operate at 48VDC which are then boosted by the internal DC converter ranging from 350V to 450V. They did this to equal the DC input of the usual inverters. There is a big gap in voltages which gives a significant hit of about 94% to 97%.
Factual Information about Tesla Powerwall battery:
● The efficiency figure of 92% is quite misleading.
● The design of the battery is made for long durations, which gives a low power voltage.
● The battery's thermal regulation may have a hidden cost for performance.
● If designed correctly, the batteries may last a hundred cycles.
● If you cut the grid connection, it will cost you more than two or three times.
● Powerwall will not allow you to make profits based on arbitrage.
● Powerwall is meant for three different groups.
● Its strategic impact is focused mainly on the side of the competitors and the supply side of Tesla.
2. Tesla Powerwall Nominal Voltage
The nominal voltage for Tesla's Powerwall is rated at 120/240V. Nominal voltage refers to the nominal value that is specified to a particular circuit or system. The purpose of assigning a voltage class makes it conveniently done under a theoretical voltage system.
The actual or real voltage in which a specific circuits works may vary from its nominal voltage or within a particular range that gives or allows the proper operation of equipment.
3. Tesla Battery Module Voltage
When we say battery module, it refers to the series of cells formed as one. It is usually made of one to at least six volts. The module is made of several cells that are connected in a series or parallel connection.
In Tesla, the battery module 85-type voltage ranges from 22.2V nominal voltage and 25.2V maximum voltage and with a minimum of 18V.
4. Tesla S Battery Voltage
Tesla Battery Module S model is one of the best battery in the market today. It allows many conversions for about 200 miles per charge. The S model module is composed of 3400 mAh cells. These modules are rated at 500 amps to 750 amps per peak.
The nominal voltage for the Tesla S model is pinned at 3.8V per cell up to 22.8V per module. The voltage charge cut-off is at 4.2V per cell and up to 25.2V per module.
How To Test Tesla Models S Battery Range
The range is computed by getting the product of the EPA Highway Dyno score and 0.7. This 0.7 is pertained to as the multiplier which is used by the majority of car builders when they change the scores to an EPA range.
Typically, the range of the city brings in heavier weight than the range in highways. However, others used only the highway scores in calculating the range which should be given.
Based on consumer reports, it shows a 65 mph range. So, how do you calculate range with 70, 75 and 80 mph?
Well, the computation is based upon the two sources:
1. Tesla's graph.
2. A test that showed the S model range at 45,60 and 70 mph. Both of the sources gave the same results.
MotorTrend conducted its exclusive test on the range of Tesla 2019 Model S. During the range test, the 370 miles of battery range was able to make it successfully from the San Francisco Bay Area to Los Angeles without charging the battery. It only means that Tesla's battery range can get you adequately covered from point to point.
5. Tesla 3 Battery Voltage
Tesla 3 Battery Voltage is given as follows: for Models X and S, it has a 375 Volts, and for Model 3, it comes with a 350Volts. These digits are not yet final since the batteries in the electric car are in pack composing of different cells.
Each model also comes on different levels, which depends on the energy stored, which makes the voltages different from one another.
Model 3 has 75kWh and a voltage of 350V, which is the nominal on long range. With a 400 maximum and 242V minimum during the peak discharge rate Model 3 has a rate of 1200 amp.
With the number of cells, it has four modules and two modules having 25 groups with 46 each and two modules having 23 groups having 46 cells each or a total of 4416 batteries at 50 kWh.
Tesla Model 3 is using the new and more significant 21700 cells of a battery.
6. Tesla 2170 Battery Voltage
The new Tesla 2170 is a product of using an entirely new chemic formula in which the voltage was increased. Compared to 18650, 2170 has improved a bit in terms of its chemistry. Just as 18650 is already making its way to the market through its DIY modes, it doesn't add so much in terms of performance.
The chemistry changes from 2170 from the 18650 model is one of the surest ways to raise its efficiency rating by 100%. It is less confident that the maximum charge and discharge currents per battery four amps and 20 amps for the 18650. Having these numbers, it will be increased of up to 50% more for model 2170.
7. Tesla Semi Battery Voltage
The Semi from Tesla has a range of 300 to 500 miles, which still depends on the battery size installed. According to experts, it can also recharge fast by using the new Megachargers to add another range of 400 miles in 30 minutes.
The Semi has a charge port of eight pins. It is like having around 4 Superchargers in one. So, having about four Superchargers of the same size, you would have approximately 500 kW because of the size of the wire. In case they multiply the voltage, they could use the same amount of power in the same cables which would not hit 1.6 MW.
8. Tesla Truck Battery Voltage
It suggests that the Tesla Truck Battery voltage goes with a 200kWh battery with a 380 range per mile and a 3.9 per second of 60 mph time. With a battery size of 200 kWh and a weight reduction of 5% to further improve the performance from the time Tesla released it.
For the motor size, Tesla has used two Model 3 rear performance motors working at 300HP, each having a total of 600HP.
9. Tesla Model X Battery Voltage
Model X battery voltage is almost the same as the Model S Tesla battery. Model X runs on a 400V and 375 V. Both S and X are 18650 cells. It has 12Wh energy and a volt of 4.167 with a 100% SOC. The nominal voltage is about 3.6 V. The classic cells has a current of 3100mA, but if you have a 75/90 battery pack, the flow is estimated at 3280mA.
What Voltage Do Tesla Cars Operate At?
The voltage in which a Tesla car operates is computed as follows: 9 bricks is multiplied by 3.6V multiplied by 11 modules which equal to 356.4V.
However, the Tesla specifications state that battery is tagged at 375V. Having its nominal voltage required to accumulate the 375V, each cell has to have a nominal value of 3.78V.
What Voltage Is A Tesla Supercharger?
The Tesla Supercharger has a 480V DC. It is a fast-charging charger built by Tesla itself intended for all their electric cars. They made a station where Tesla car owners can fast charge their vehicles.
The fast-charging stations were first introduced in the year 2012. These Superchargers are installed in 1422 locations around the world.
The Supercharger stations provide a connector that supplies the electrical power of up to 150kW through a direct current to a 400V pack of a car battery.
What Voltage Does a Tesla Charge At?
The standard charger for Tesla having a connector of 14-50 can charge a Tesla battery fully for a full ten hours for the S model and at least 10 1/2 hours for X models.
The 14-50 Nema charger for Tesla electric cars can be plugged in a 240V outlet. This voltage is the same type that you used for a clothes dryer and other appliance.
Should You Charge Your Tesla Every Night?
Most Tesla users recommend that you plugged in your Tesla battery nightly. It should have a maximum array of 90%. If you set it lower, you may go without having the extra daily range. Plugging it in nightly will give you a limit charge of 70 to 90% as provided in the manual. If it is still 100%, do not charge until it goes below 80%.
Being the pioneer in electric cars, Tesla battery voltage has been tested so many times to check its range and performance. It has to prove that using electric cars is more economical than gasoline type vehicles.
As we moved towards the next century, we might adopt the idea of having electric cars for a more economical and environmentally friendly option for car users.
Are you interested in learning more about Tesla after you read all this? Then go to this page about the history of Tesla.
And you can also read the related article on How Much Does Tesla Battery Replacement Cost?