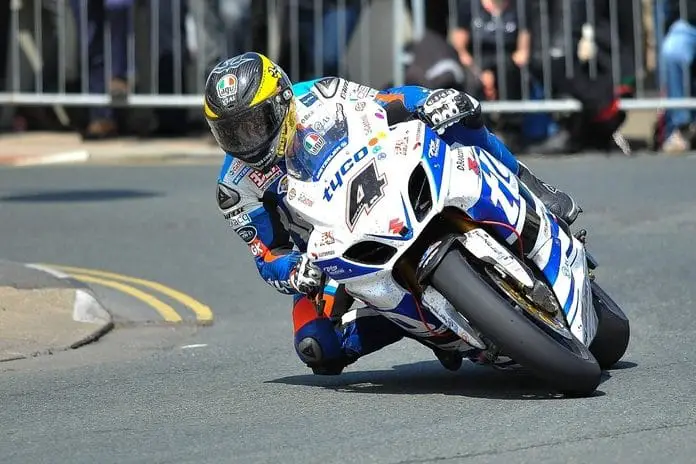 AGM battery prices are getting more and more expensive these days. It will be a waste of money if we keep spending for a yearly replacement of batteries. The need for a battery charger becomes a need when you have motorcycle batteries to maintain.
So, what' is the best AGM battery motorcycle in my opinion? Based on the information I have gathered online, Chrome Battery YTX14-iGel High Performance is the top rated and battery according to Amazon customer review.
Why I went to Amazon to review the top AGM battery for a motorcycle? It's because Amazon is the no.1 online shopping site and most of the customers go to buy items on Amazon very often.
Amazon is very well trusted company, and they deliver the product within a few days! With that, I also picked the best AGM motorcycle batteries from Amazon so you can read each product of opinion and comparison below.
List Of The Top AGM Motorcycle Battery You Can Buy On Amazon
When it comes to motorcycle batteries, we have the top list of AGM motorcycle batteries that you can buy on Amazon. Look it up and see which one will suit you best.
1. Chrome Battery YTX14-BS iGel High Performance
These Chrome Pro Series are gel electrolytes injected batteries which has advanced features and intelligence chips in it. The LCDs show the voltage received from the alternator and the battery itself. It also has an alarm that will warn you against low voltage or short circuits.
These battery models have an Igel series which can automatically record when you have installed your batteries. It even has a longer service life than the usual SLA batteries. Chrome batteries bear an element called Bridge Welding, which helps absorbs vibrations.
Chrome Battery is the best choice for most power sports adventures. All Chrome brand AGM batteries are manufactured with quality and excellence. All AGM batteries undergo rigid testing to ensure safety and optimum performance.
YTX Chrome Batteries features an LCD and built-in patented chips that prolong and protect the battery for longer and better performance.
Pros:
● It is a power sports battery.
● Uses Smart technology.
● Built-in LCDs.
● Gel Electrolytes powered, maintenance free.
● Best after-sales support system.
Cons:
● The battery terminals were not reliable. It would be better if they have used better materials for the battery terminals.
Specifications:
Brand: Chrome Battery
Model: YTX14-BS iGel
Weight: 9.92 lbs.
Product Dimension: 5.8 x 3.3 x 5.7 inches
Vehicle Service Type: Motorcycle
Amperage: 12A
Voltage: 12V
Wattage: 144 watts
2. CB Chrome Battery Sealed AGM Motorcycle Battery
Chrome Battery YTX30L-BS batteries are also from AGM and one of the best-recommended batteries for your motorcycles. It uses lead-calcium alloy and AGM technology for a maintenance-free battery. It is built for high-performance operation and uses only the finest materials to ensure the quality of its products.
All Chrome batteries undergo rigid testing for superior top quality performance. One good thing about Chrome batteries is that it is factory charge, that makes it ready for your immediate use.
Most of the Chrome batteries are rechargeable. It only means that you can save a lot from this type of cell. A rechargeable battery lasts longer than non-chargeable ones.
Pros:
● This battery has a versatile fit. It can fit motorcycles, ATVs and more.
● It is rechargeable.
● It uses AGM technology which keeps the battery dry all the time.
● With an Easy Application, the battery is ready to use after delivery.
● It uses the best customer service ever.
Cons:
● It does not fit BMW motorcycles.
● Only 380CCA vs. 480CCA was changed.
Specifications:
Brand: CB Chrome battery
Model: YTX30L-BS
Weight: 22lbs.
Product Dimension: 6.5 x 5 x 6.9 inches
Vehicle Service Type: Motorcycles and all-terrain vehicles.
Amperage: 30A
Voltage: 12V
Wattage: 360
3. YTX12-BS High Performance Power Sports Rechargeable Battery
If you are looking for a motorcycle battery, choose BS High-Performance Power Sports Rechargeable Battery – Maintenance Free – Sealed AGM Motorcycle Battery. Also known as the Pirate battery, it is filled with extreme power even up to the last volt.
It is also a rechargeable battery making it last longer than the healthy cells. It has the power to charge for up to 2,000 times. This type of cell is built to last. Its durability can have a strong resistance to shock, heat, and vibration. You can be sure that it is safe and reliable.
Pros:
● It is a power sports rechargeable battery.
● It can fit almost all types of vehicles, from motorcycles to ATVs.
● It uses AGM technology.
● It comes with a full charge from the factory. Ready to use when delivered.
Cons:
● Some bike models are not listed to fit this battery when they claim that it will provide all types of motorcycles.
Specifications:
Brand: CB CHROME BATTERY
Model: PWS-YTX12-BS
Weight: 8lbs.
Product Dimension: 5.9 x 3.4 x 5.1 inches
Vehicle Service Type: ATV, UTV, Street Bike, Dirt Bike, Adventure, Scooter, Snowmobile, Personal Watercraft
Amperage: 10A
Voltage: 12V
Wattage: 120 watts
4. ADX14AH-BS – AGM Replacement Power Sport Battery
Another AGM brand that works above the average. All AGM batteries are built to perform longer. ADX 14AH is the perfect choice for your motorcycle batteries.
And because it is AGM, it is maintenance-free. It is sealed and non-spillable. You can be sure that your battery is safe and will have a longer lifespan. We regard this battery as a premium type battery.
Premium batteries can hold the voltage longer which could only mean that this battery is ready to be used anytime. ADX 14AH excels in most normal cells that we have.
ADX 14AH is manufactured to perfection. It uses only high-quality materials to ensure that everything will be perfect. It aims to give you a longer battery lifespan with superior performance.
Pros:
● It is a ready-to-install maintenance-free battery.
● It surpasses the expectations of the original battery.
● It uses AGM technology for added protection against leaks and spills.
● It comes with a 30-day money back guarantee.
Cons:
● There was no particular disadvantage written by customers, except for one where it says that the battery did not last during the summer storage. However, the rest left a positive review of the product which means that they are satisfied with its performance.
Specifications:
Brand: ThrottleX Batteries
Model: ADX14AH-BS
Product Dimension: 6.4 x 5.3 x 3.6 inches
5. ACDelco ATX20LBS Specialty AGM Power Sports Battery
ACDelco AGM batteries are spill and leak proof. All AC Delco batteries are shipped to you dry and fresh. The fiberglass mat absorbs all the acid making it spill and leak test. One good thing about this battery is that it requires less charge and last longer than other typical batteries.
It is 100% maintenance-free. Once you have installed the battery, there's no need to add water. It can hold its charge 3x longer than flooded batteries.
It is engineered explicitly against vibration resistance for a longer lifespan. ACDelco is the battery chosen by most professionals, because of its high-quality and great value for money.
It provides almost all types of batteries for our individual needs. When it comes to price, ACDelco can compete with its rivals in the market without sacrificing quality.
Pros:
● They shipped the battery to you dry and sealed.
● AGM technology used to prevent spillage.
● It is a sealed maintenance-free battery.
● It comes with a convenient acid bottle for the right amount of acid.
Cons:
● Battery posts, terminals contain a harmful lead compound.
● It has chemicals that cause cancer, birth deformation, and other reproductive problems.
Specifications:
Brand: AC Delco
Item Weight: 14.2 lbs.
Product Dimensions: 6.8 x 3.4 x 6 inches
Voltage: 12V
We have gathered five top rated motorcycle batteries from AGM. Based on Amazon Reviews, these motorcycle batteries have been given the best reviews so far by the motorcycle owners. These are also the most bought product on the Amazon website.
The motorcycle is one of the most comfortable vehicles to use with the growing traffic. More and more people are buying and starting to use bikes as their form of transportation. Therefore, the need and demand for motorcycle batteries have also increased.
I will provide you with the best motorcycle AGM battery buying guide. This guide will help new motorcycle owners on how to choose the right battery for their motorcycles.
Best Motorcycle AGM Battery Buying Guide & FAQ
Here, you will learn the tips in buying the best AGM battery. There is a battery buying guide which will tell you exactly the right battery for your specific bike needs. Every bike has its specifications, and every specification should be met for top performance.
Look And Read Motorcycle Battery Reviews. Searching and googling the different brands of motorcycle batteries will help you out. There are many articles found on the web that tells something about motorcycle batteries. Amazon is a great site that will show you different product descriptions, specifications and the pros and cons of each product.
Know the type of Product You Need. Before buying a motorcycle battery, be sure to know what kind of cell you need. It is essential that you know personally the type of battery that you specifically need for your bike.
Just for your information, there are several types of batteries. Every motorcycle batteries may use one of these types, you should know them:
Type1: Rechargeable Batteries
These type will last a little longer than the conventional varieties. You can use them for a long time. Recharge when needed, it is merely a charge and recharge thing.
Type2: Sealed Batteries
Batteries that are sealed doesn't require maintenance. I also refer to it as a maintenance-free battery.
Type3: Unsealed Batteries
Also known as the wet batteries. It is called wet cells because you need to refill it with a distilled water to avoid drying the battery plates. It is a heavy-maintenance battery.
Top Brands Of Motorcycle Batteries
Here are the names that usually comes out when looking for a motorcycle battery. It is also important to note the names of the products have been tried and tested by motorcycle owners themselves.
1. Yuasa
These are American made motorcycle batteries. It uses and practices the standards of excellence and good work since 1979. Power sports batteries are one of the top sellers of Yuasa. They manufactured this one in their Laureldale, PA plant.
2. Odyssey
Odyssey also provides a wide variety of choices for their battery line. Power sport batteries can be used for motorcycles, snowmobiles, and ATVs. This AGM designed battery protects against vibration that quickly destroys other cells.
3. ACDelco
This brand can be proud of the kind of customer service they provide. The after-sales service is one for the go. They care so much for their clients that they keep coming back.
Battery-wise, ACDelco supplies quality GM OEM replacements. They also have a complete line of batteries for all types of motorcycles.
These are just some of the best. I may not have mentioned everything here, but if you still want to find out more, research for more motorcycle batteries on the net.
What Is The Difference Between AGM Battery And Other Type Of Battery?
AGM batteries would mean Absorbent Glass Mats. We will set the difference between AGM batteries and other types of cells like the Gel type and Flooded type batteries.
We want to stress that all of these batteries have lead-acid in them. It is the original composition and structure of a cell. Let us take for example the AGM batteries first.
AGM Battery
So far, AGM is the latest and uses state-of-the-art technology in manufacturing batteries. An AGM battery makes use of a separator, which is made of fiberglass to divide the plate and the wrappers.
The act of separating the plate and the wrappers will hold the electrolyte in place with some capillary actions. These capillary actions are essential in the performance of a battery. It forms a physical bond that makes the battery spill proof.
It works against resistance and corrosions. These are totally maintenance free. Charge it and walk away, the battery will charge by itself and automatically shuts off when it's full.
Flooded or Wet Cells
This type of battery is one of the most popularly used in the market today. Just like an AGM battery, flooded or wet cells all have lead acid content. Flooded batteries are never sealed. Comparing it with AGM batteries, you can quickly pinpoint the difference between the two.
Flooded batteries require maintenance. You need to closely monitor these type of cells as it may run out of water. Failure to refill your plates with water may cause your battery to corrode fast. It may also shorten your battery life.
Gel Cell Batteries
Gel batteries are sealed just like the AGM batteries. Gel batteries make use of silica to change the sulfuric acid to a jelly-like substance. The jelly will then be used as an electrolyte.
One very crucial thing about Gel batteries is never to expose it to high amperage. Once it does, it will create a hollow or a pocket. These pockets will then start the corrosion on the batteries.
Gel batteries are better than the Flooded type, but it is incomparable to an AGM battery.
Advantages Of Using AGM Motorcycle Battery
AGM batteries are popular in the market. It produces high quality and top performance batteries that could last longer than expected. I will give you the many different reasons why you should use an AGM battery for your motorcycle.
● All AGM batteries are spill-proof.
● It contains high-specific power with low resistance and responsive to load.
● Charges five times better than a flooded battery.
● It contains better lifecycle than a flooded battery.
● It has a water retention capacity.
● It can stand extreme cold condition.
AGM Motorcycle Battery Charging Process
There are a couple of things that you need to remember when charging your AGM batteries. Most AGM chargers and batteries for that matter use a microprocessor now. So, that's a little bit of high-technology in terms of battery charging.
All batteries contain lead-acid which can cause sulfation. Sulfation process begins when the battery discharges. It will be better to look for a charger that has a desulfation mode. This process will keep your batteries in good condition and perform better.
Charge it low and slow. Keep it as little as 12 Amp., and this is the best charging voltage to keep the battery in top condition. Fast charging is convenient. However, it produces a lot of heat which may cause battery damage.
Remember that alternators are not chargers. Keep in mind that an alternator is only used to maintain a battery and not to charge it. So once you have discovered that you are low on power, get a charger and charge your batteries immediately.
Different chargers have different charging capabilities. You must better read your charger's manual. Sometimes AGM batteries require an AGM charger too. However, the latest models of chargers now are already capable of charging an AGM battery. They have specific settings meant for an AGM battery.
AGM and Gel Batteries are entirely different. I have mentioned the only similarities between the two, and that is they are both sealed. Other than that, there is so much difference between these batteries. Better check your charger before using it for an AGM battery. Using a gel setting charge an AGM battery may damage your battery.
Here is the article I have written about the best AGM battery chargers, if you are interested in reviewing these cahrgers then click here.
AGM Motorcycle Battery Life Expectancy
No battery will ever last forever. Everything must come to an end. However, as owners of vehicles that use batteries, we would like to maximize the lifespan of our cells. We all know how expensive a car battery is. At least by prolonging its lifespan, we will be able to save even just a bit.
On average, an AGM motorcycle battery has a life expectancy of about 4 to 5 years. Depending on the owner's usage, you may extend it for 7 to 8 years. There are indeed several factors that affect the life expectancy of your battery.
Several Factors That May Shorten The Lifespan Of Your Batteries
It is a fact that our maintenance can say a lot about the life expectancy of our batteries. How long we can use the battery depends on us, owners. Look at these factors that you may be doing to shorten the life of your battery.
Climate or Weather
Extreme weather condition affects the performance of your batteries. Cold weather for one makes it difficult for cells to perform at their best. Hotter climate discharges the batteries efficiently. You can see how extreme weather affects battery life.
To avoid this kind of situation, refrain from exposing your batteries in extreme weather conditions.
Sulfation
Sulfation is the process wherein the battery accumulates a build-up of sulfates. It is one of the primary cause of battery deaths. It is so fatal that you need to avoid this from happening. Otherwise, you will spend a great sum of money replacing your batteries every time.
Discharging the batteries
Do not attempt to drain your AGM batteries. Removing your cells will make it hard to recover. Battery drain problems are also the leading cause of shorter battery life.
So if you want to extend the life of your batteries for 7 or 8 years, avoid discharging them.
Tips To Keep Your Batteries Well-Maintained And Cared For
These tips are given to help you maintain your batteries well. Extending your battery's lifespan to 8 years is a lot of savings.
Tip1. Remember to keep it clean
A well-maintained battery is a fresh battery. Continually cleaning your cells will prevent it from corrosion and acid leaks. Keeping it that way all the time will be enough to prolong its life.
Tip2. Don't expose your batteries to extreme weather
I have mentioned the effect of extreme weather conditions on your batteries. Both hot and cold can greatly reduce the lifespan of your cells.
AGM Motorcycle Battery Battery Voltage Range
I went to look for the chart of the AGM battery voltgae and it is very imformative graph!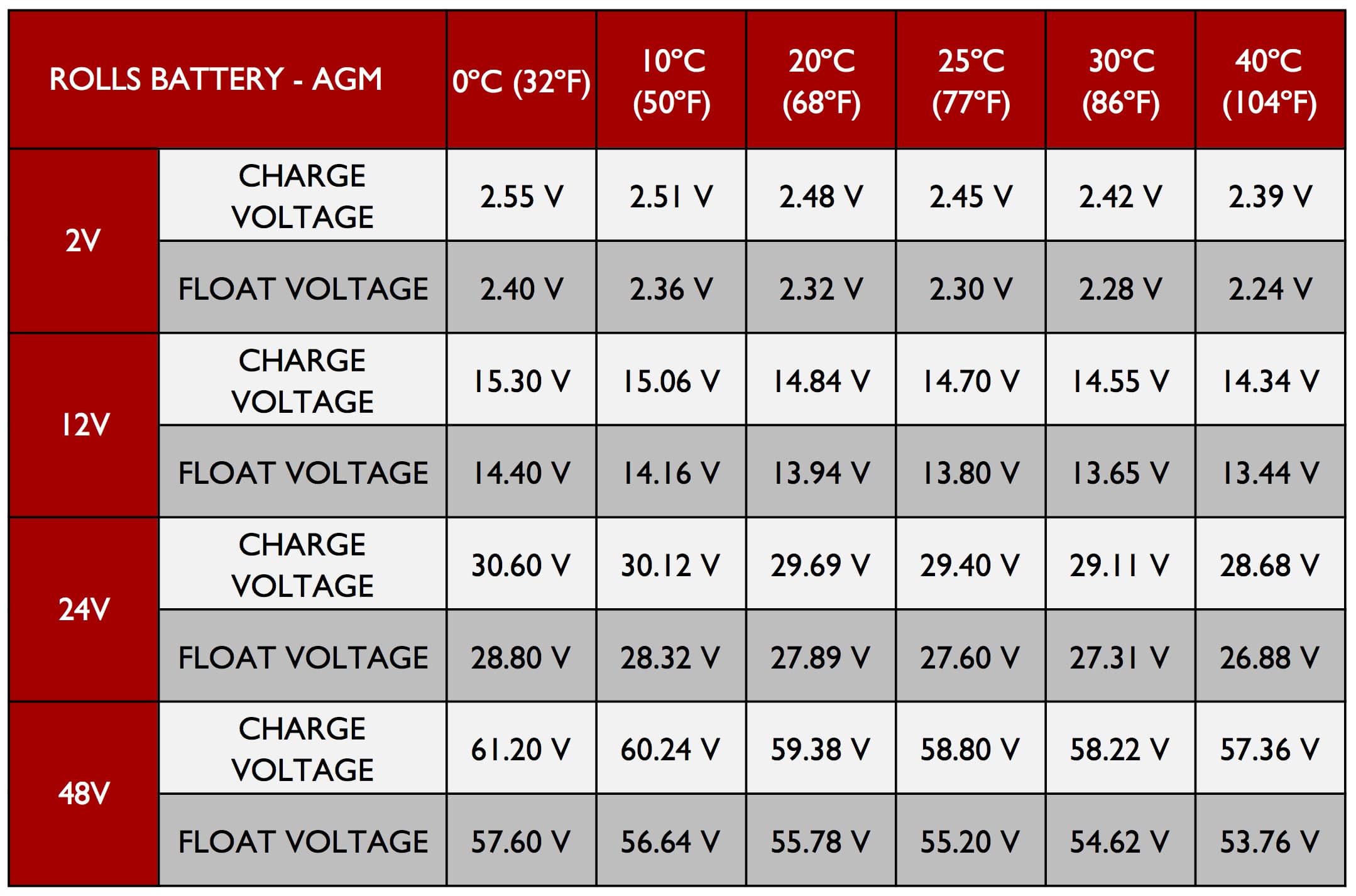 (Source: RollsBattery)
Conclusion
Motorcycle batteries need special care too. Getting the best AGM motorcycle battery is a wise move. AGM sets the standard in car and motorcycle batteries and chargers.