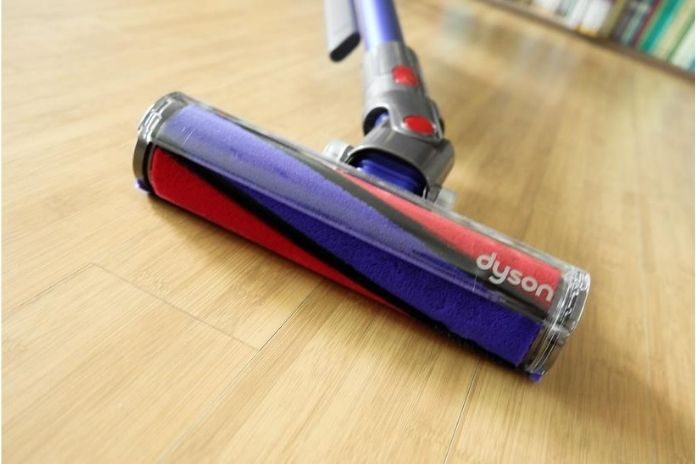 Dyson is a popular company that makes our daily chores a lot easier. It specializes in manufacturing and designing household appliances like vacuum cleaners, hand dryers, air purifiers, heaters, etc. The appliances that Dyson offers come in a variety of models and sizes, capable of handling chores of different sizes.
One of its top-selling vacuum cleaners is the V7 Motorhead model, a cord-free unit in the mid-range upright category. As a rechargeable lightweight unit that can be used in the upright position, this is one of the most convenient units in the market today.
How long does Dyson V7 battery last? According to Dyson, the V7 Motorhead, Absolute, HEPA, and Animal cordless vacuum models are equipped with a battery that could last up to 30 minutes with a fully charged state. If the unit is used with the motorized head, the battery will last for 20 minutes.
Dyson also stated that actual run time the battery would be able to deliver will vary according to the power mode of the device and the attachments that it uses. With regard to the life expectancy of the battery, Dyson also claims that all of their batteries are expected to last for 3 years to 4 years.
You may think that its battery life of the unit is not that long, but its size and performance can be considered excellent. Think about it, 30 minutes is long enough if you are to vacuum an average-sized house if that duration is not enough. It has to be a bigger space that needs a bigger vacuum.
Anyway, getting back to our topic, the battery of the V7 models is able to run the unit for 30 minutes at standard power mode with a full charge.
Dyson offers an excellent selection of cord-free vacuum cleaners, and one of the latest additions on the product line is the V7 Motorhead. As a product of the company's non-stop innovations, the unit has been one of the most sought after vacuum cleaners today.
Not only that, it offers exceptional reliability, but it also offers excellent efficiency and better runtime.
An In-Depth Look at the Dyson V7 Cordless Vacuum Model
We need to understand why Dyson's V7 Motorhead is considered one of the best household appliances today. I think it will best if we take a closer look and see the features it has to offer. One of the issues that got some people concerned about the unit is its battery life; we can also clear out a few things about it by going through the unit's specifications.
So, let's begin.
V7 Cord-Free Vacuum Cleaner Specifications
Dyson is known as the pioneer that introduced the upright oriented vacuum; it is a design that the V7 Motorhead adopted. It is engineered with Two-Tier Radial™ Cyclone innovation paired with a lifetime washable filter and dimensions measuring at 8.2 x 49 x 9.8 inches.
The unit weighs at 5.45 lbs with a big volume of 0.14 L, and it comes with a cleaner head that boasts a direct-drive feature.
The V7 model is designed to run in two different power modes; MAX mode, where the vacuum delivers a 100 AW suction power and Powerful mode, delivers 21 W suction power.
The unit is powered by a 3500 mAh rechargeable cell capable of providing a runtime of up to 30 minutes and a charging time of three and a half hours.
Key Features of the V7
A lot of experts say that what makes this unit stand out among its fierce competitors are the features that it has to offer.
Starting with its motor, Dyson's patented digital motor that is able to deliver powerful suction, which is ideal for hard surfaces and carpets. This is backed up by its dirt-emptying system that sports a "no-touch" feature, making it very convenient.
Another thing that makes the V7 Motorhead an exceptional model is its radial cyclone technology that has two tiers for enhanced efficiency.
The option of having two power modes also make it a very special unit and pairing it with its ability to be used as a handheld or the upright orientation. Gives it the versatility and reliability that is very desirable for households.
Battery Information of the V7 Vacuum
For its size and the amount of power that it can deliver, you wouldn't think that it is powered by a 3500 mAh lithium-ion battery rated at 21.6 volts. It has a recharge time of 210 minutes, and it is capable of running the powerful unit for as long as 30 minutes.
With its efficiency, ergonomic design, and weight, the runtime offered by its battery is long enough to get any cleaning job done. In fact, one of the aspects that makes this model very desirable is its battery life combined with its energy efficiency.
Like any other upright cordless vacuums from Dyson, the V7 model is built with energy-efficient components. This allows the unit to consume less energy on every operation, utilizing every bit of energy to be productive.
Compared to other cordless units, the V7 also has offered better runtime even when using motorized heads, setting apart from the competition.
Replacing Dyson's V7 Battery: A Step by Step Guide
Another great thing about the Dyson V7 cord-free model is its battery is replaceable. After three or four years, when you start noticing issues with the unit's battery. You can get a new replacement and enjoy the unit's performance and efficiency for several years.
All you have to do is to purchase an OEM replacement cell and carry out a battery replacement process, which is very straightforward.
If you don't know how, here's a brief walkthrough of the process:
Step 1: Getting Your Hands on an OEM Battey Replacement
Before you can proceed to replace your Dyson V7 battery, you first have to procure the right battery replacement for your unit. Since the V7 is a popular cordless vacuum unit, you won't have any difficulties of getting one.
You can either get one online or plenty of stores within your area. Having a Phillips screwdriver will also come in handy during the process, as you will need to unscrew the old battery from the handle.
Step 2: Carry on With the Actual Replacement Process
Once you are in possession of the right battery replacement for your Dyson V7 cordless vacuum, you can now proceed to the actual replacement process by locating the three security screws holding the old battery in place.
One of the screws is located on the handle, the one on top and the other two are located on the unit's underside. Take your Phillips screwdriver and start unscrewing them.
Step 3: Taking Out the Battery Pack Carefully
After unscrewing the three security screws holding the battery pack in place, the battery will loosen up, allowing you to detach it from the unit.
Give it a light pull to make sure that it is ready to come off. Carefully pull the battery downward to take the old battery out from the device, and they place it aside.
Step 4: Installing the Replacement Battery
Now that you have taken out the old battery inspect the handle and check if there are any buildups. Clean the handle, including the part where you took the old battery from to make sure that replacement will sit perfectly.
Once your sure that everything checks out, install the replacement by carefully inserting it on the handle.
Step 5: Wrapping It Up by Securing the Replacement Cell
Complete the process by securing the battery replacement on its position by holding it in place with the three security screws. Start with the two at the bottom and then finish it up with the one at the handle.
Keep in mind that you don't have to apply a lot of force when fastening them; doing so may damage the plastic.
That is how you replace the battery of a Dyson V7 model. The steps disclosed on the guide above are based on how Dyson experts do the replacement process. So you can rest assured that the guide is legit.
Final Thoughts
After going through all of that information, we can clearly see that one of the best assets the Dyson V7 cord-free vacuum cleaner is not its excellent feature alone.
It is a combination of its features, energy efficiency, and a reliable battery that is complimented with a runtime considered excellent.
It seems like the vacuum model is a well-oiled machine where every element works in harmony to deliver optimum performance.