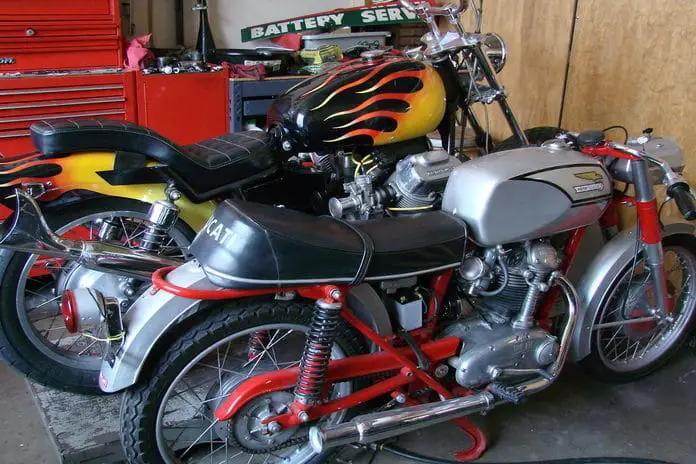 Replacing a battery is inevitable. You would need to remove and re-install the new one every three years. Removing and re-installing it should be reasonably easy, but the process does differ for different motorcycles.
So how do we install a motorcycle battery? The first and most critical step is to read your motorcycle manual. Everything that you need to know, including the step by step instructions on how to remove and install a battery, should be there. In case you have lost the manual, I have listed down some of the generic steps you can apply to do this.
As always, prior to doing any of the instructions stated in this article, please be reminded of some safety precautions. Protect your hands using rubber gloves and your eyes with eye goggles.
Make sure that your work area is bright and air is circulating well as gas from the battery can cause an explosion. If you are inside a garage, better bring your motorcycle out of the garage. Keep the workplace clean and children and pets away.
3 Steps To Replace Your Motorcycle Battery You Can Follow
Step 1: Read the manual. Most of us forgo reading the manual thinking that we know enough and should the need ever arise; we can always search the internet for any how-tos that we might need.
Although that is true enough, there is still nothing like reading it from the actual manual that came with your motorcycle. This way, you can know that the information is dependable and trustworthy.
Step 2: Locate the battery. The battery's location, as I have mentioned, differs for different motorcycles. Here are some of the areas where the battery can be found. There are other locations not indicated below especially for custom motorcycles. In this scenario, best to check with your mechanic.
• Under the seat
• Under the side covers
• Under the fuel tank
• Right side of the bike
• In the tail section
• Under the motorcycle
• Upper right fairing
Step 3: Remove the battery from the motorcycle. Removing it is actually quite easy and very straight-forward. You can also watch videos about it in case you need a visual guide.
1.
Disconnect the negative (black) cable. Look for the terminally marked with (-).
2.
Disconnect the positive (red) cable. Look for the terminally marked with (+).
3.
Remove the battery by detaching, unscrewing, unhooking or unstrapping it. Act depending on how the battery has been secured.
4.
Install the new or replacement battery.
5.
Re-attach, screw it back in, hook it back up or re-strap your battery in. Act depending on how the battery needs to be secured.
6.
Reconnect the positive (red) cable. Look for the terminally marked with (+).
7.
Reconnect the negative (black) cable. Look for the terminally marked with (-).
8.
Test it.
How To Determine If Your Motorcycle Battery Needs To Be Replaced
The easiest and fastest way to determine if your battery needs to be replaced is to perform a visual check on it. A replacement is normally required if you see that it has a wrecked terminal, the casing has a bump or a crack, liquid is leaking or there is discoloration.
Of course, if the expected life span of the battery has already been met, better to get a replacement already. It may be expensive to go get a replacement but better for you in the long run.
This is to prevent any future battery problems. We surely would not want to have one when we are out in the middle of a riding activity with friends.
This article helps you determine if you need to replace your battery for your motorcycle!
Final Thoughts
Installation of a motorcycle battery is relatively straight-forward. All you have to do is follow the instructions in your motorcycle manual. The hard part is knowing what battery you need to replace the old one. Yes, you can buy the same old battery that you have been using, or you can buy a better but cheaper one. Shop wisely.