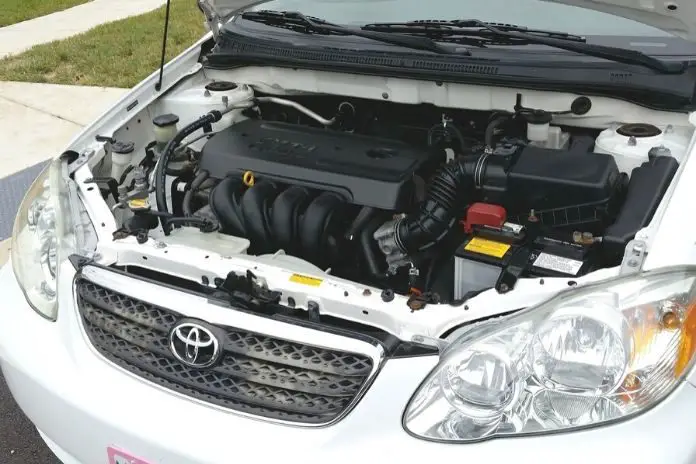 Car batteries come in a variety of sizes, and it is vital that you know the right size of battery for your car. Getting an automotive battery size will not only make it easy to install in your vehicle, but it will also make sure that it will deliver the optimum performance that you need. One of the most common sizes used today is the 94R battery, and it may be the right size for your vehicle.
What is a 94R battery? A group 94R power cell is one of the most common sizes of battery used by a wide variety of vehicles. However, it is typically used for medium commercial vehicles like passenger vehicles.
This battery size is also commonly used by cars manufactured by Volkswagen, Mercedes-Benz, Porsche, Audi, and BMW. The 94R battery is also referred to as the LN4, H7, or L4 battery.
In this article, I am going to talk about everything 94R. I will provide you all the information you need to know about this particular battery.
The guide includes the complete specifications of the battery, all the essential details about it, other advanced details, and even some of the top 94R cells available in the market today.
The Complete Specs and Dimensions of the Group 94R Battery
Here you will learn all the basic details about the Group 94R batteries. I amgoing to give you its whole dimensions, full specifications, and its full description.
The Group 94R battery is well-known for having its post at the top and its flush on top of its case. Its positive battery terminal is located on the right side, while its negative terminal at the left side.
Full Specifications and Dimensions of the Group 94R Battery:
● Cold Cranking Amps: 620 – 900 Amperes
● Reserve Capacity: 135 minutes
● Average Weight: 51 – 57 lbs
● Length: 315 mm or 12.4 inches
● Width: 175 mm or 6.9 inches
● Height: 190 mm or 7.5 inches
The Best Things About the Group 94R Automotive Batteries
There are several reasons why the 94R car battery is a trendy size. As we mentioned earlier, it is the size of the battery that best suits commercial vehicles as well as vehicles that can take a lot of passengers.
Batteries on this group usually are very powerful and designed to deliver a lot of output consistently. Car batteries in this group are also designed to be very versatile, allowing them to suit a wide range of vehicle types.
To get to know the best things about the group 94R battery, I have listed them below:
1. Powerful and Consistently Provides Good Output
The battery models under the group 94R are versatile because most of them are designed to be powerful and consistently deliver good amounts of power. Due to this, they are very much capable of starting small to medium-sized vehicles.
With their excellent average cranking amps, they will not have any issues with starting a wide range of vehicle sizes, making them the most suitable battery for most commercial vehicles.
2. Designed to Deliver Excellent Cold Cranking Amps
Another great thing about this battery size is that most of the models within this group are engineered to deliver excellent cold-cranking amps. This allows these batteries to be very consistent, even in cold weather.
Since 94R batteries can provide good amounts of power in cold temperatures, they are more reliable. This makes them excellent for commercial vehicles that need to have good performance in cold weather conditions. This makes them one of the most recommended battery sizes for a vast range of cars.
3. Good Reserve Capacity
Finally, one of the best things about 94R batteries is their good reserve capacity: the amount of time they can be used for a single charge. Due to this quality, these batteries can also be suitable for plenty of applications.
This makes them very flexible and versatile since they can be widely used. Having a functional reserve capacity also comes in very handy in various situations since they can offer a sustainable amount of power for more extended periods.
These excellent qualities make the 94R automotive battery versatile, allowing them to be suitable in a wide range of applications. These qualities also make them very reliable, which makes them excellent for commercial use.
Top Three 94R Batteries You Can Get from the Market Today
Now that you've learned a lot about the 94R batteries, understanding everything that you have to know about it. It is now time to introduce you to the best models of 94R batteries in the market today.
I've picked them according to their features, quality, reliability, and price. To help you choose the right one in case you are looking to buy one. So, let's not keep you waiting and proceed to our list.
1. The 94RAGM Professional AGM Car Battery BCI by ACDelco
ACDelco is one of the well-recognized brands in the automotive industry, and they are widely known for their top of the line quality products.
One of their top models is the 94RAGM model, which is an AGM type of battery designed to deliver remarkable power and optimum performance in all weather conditions. It has a whopping 850 cold-cranking amps and is designed to have a reserve capacity that can last up to 140 minutes.
Due to its calcium lead grid, this particular battery model has an enhanced conductivity for better performance and is also made to allow low resistance.
This battery also features an improved circulation of acid that makes it a very reliable unit, making it one of the most recommended models of 94R batteries today.
Key Features:
● Cranking Amps (CA): 1020 Amperes
● Cold Cranking Amps (CCA): 850 Amperes
● Reserve Capacity (RC): 140 Minutes
2. The NSB-AGM-94R Pure Lead Automotive Battery by NorthStar
NorthStar is a popular battery manufacturer known for producing top-notch quality products made with some of the most cutting-edge technology.
The NSB-AGM-94R Pure Lead Automotive Battery is one of those products that promises excellent performance as well as fantastic reliability. It is an AGM battery built with a capacity of 76 Amperes per hour at a 20-hour rate.
One of the excellent qualities of this battery model is that it is engineered to deliver a remarkable pulse cranking amps that can go up to 1650 Amperes, making it one of the most powerful units of its kind.
It has 840 cold-cranking amps designed to offer up to 158 minutes of reserve capacity.
Key Features:
● Cranking Amps (CA): 1030 Amperes
● Cold Cranking Amps (CCA): 840 Amperes
● Reserve Capacity (RC): 158 Minutes
3. The H7-DLG Gold Battery by Duralast
The final 94R battery model on our list is manufactured by Duralast, another household name in the battery industry. As a product masterfully crafted by one of the most popular battery brands in the market, this model is considered as a beast due to its power.
It is also a very durable and reliable model that makes it one of the most recommended models.
This battery model comes with a three-year warranty policy offered by the manufacturer, and it is also designed to have excellent resistance against vibrations and shocks.
The unit is engineered to deliver a cranking amp that can go up to 1000 Amperes, and a cold-cranking measured up to 800 Amperes. The reserve capacity of the battery can go up to 140 minutes that makes it suitable for various applications.
Key Features:
● Cranking Amps (CA): 1000 Amperes
● Cold Cranking Amps (CCA): 800 Amperes
● Reserve Capacity (RC): 140 Minutes
Most Recommended Alternatives for A 94R Battery
In case you are looking for an alternative for a 94R battery, you will have a few options that you can consider.
If there is no group 94R car battery, in any case, you will have two good options to choose from. One is group 98R, which is a bit shorter, and the other is size 65, which is cheaper.
A lot of car experts recommend the batteries under the group 98R size because they almost have similar specifications as the 94R batteries.
98R batteries are a bit shorter because they are typically 11.2 inches long and have slightly lower output. However, they are considered to be the best alternative.
On the other hand, many car owners choose the size 65 batteries as an alternative because they are cheaper than the 94R batteries.
Power cells under the group 65 size are typically wider compared to their 94R counterparts. And size 65 batteries also have their positive terminal located on the left side, which can be an issue when it comes to installation.
Final Thoughts
I hope this guide about the 94R battery helped you understand everything you wanted to learn about it. I think that I already gave you a lot of great information to enlighten you about what a 94R battery is.
I gave you its full specifications and dimensions, we also gave you the best alternatives for it, and I also gave you a list of the best models under its group size.