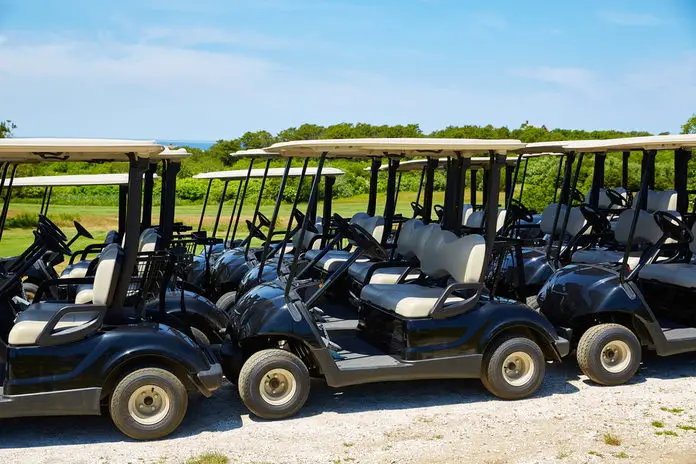 When it comes to the industry of golf cart batteries, there a plenty of choices that you can choose from. However, despite this fact, one question remains the same in the mind of a lot of consumers. This one million dollar question is, who makes the best golf cart batteries?
In this article, i will try to answer that ultimate question by comparing the 3 manufacturers considered to be leading in the market today. I will be taking a look at each of these three agents and compare them to try to see who is the best.
In this article, I am also going to tackle the significant aspects that you should consider when it comes to buying a golf cart power cell. This article will provide you a simple yet helpful guide that will help make a smart decision in choosing the right battery that you need for your cart.
So to give you a summary about this article, first, i will compare the top 3 golf cart power cell companies and then we are going to take a look into the significant aspects to consider to help you choose the best battery for your needs.
​Review For Top 3 Golf Cart Battery ​Companies On The Market Today
When it comes to the industry of gold cart power cells, there are three major names that are competing for the top spot; Trojan, US Battery, and Crown Batteries. Since i am trying to determine who among them is the best manufacturer, one thing that i can do is to look at them closer and try to see if one of them is superior to their competitor. Below is the company profile of these manufacturers that will help you discover who is the best.
● Trojan Batteries – When it comes to golf cart batteries, Trojan is a name that will always appear. As a well-recognized manufacturer, this company is well-known for offering the best batteries in the market time and time again. With their patented and state of the art MaxGuard and Alpha Plus technologies, all of the batteries they offer are extremely reliable. Despite the fact that their batteries are very pricey and considered to be most expensive in the market.
The company makes sure that what you see is what you get, paying the high price will provide you excellent quality. Another great thing about this manufacturer is that they are confident in their products that they offer two years full replacement warranty. And this is an excellent indicator that they are a trusted and proven brand that offers great products.
● US Batteries – Another top competitor in the industry of golf cart batteries is US Batteries. It is considered to be the rival of Trojan when it comes to sales and battery quality. As a company that produces reliable and durable products that can serve you for years, this company is also well-renowned golf cart battery manufacturer.

They offer lower prices in their products that make them the brand of choice clients with tight budgets. Despite offering cheaper products, they make sure that batteries they offer have excellent quality to satisfy consumers.
● Crown Batteries – Despite typically available on the east coast, Crown Batteries is a manufacturer name that is considered to rival the two brands above. They offer excellent warranties on their products that build trust with their clients.
This company also makes sure to manufacture top-quality products that offer excellent reliability and exceptional durability. Boosting their ranking to top three.
Who Is The Best Golf Cart Battery Manufacturer?
After taking a look at the company profile of the top 3 golf cart power cell agents, i can now try to answer the million dollar question mentioned above. A lot of people says Trojan is the best, because of the excellent features they offer. However, for some of the people, it's not.

In our opinion, answering that question is hard, because if you are going to consider all the aspects that you have to consider before buying the right battery. There are situations that other brands can be the best choice compared to Trojan. To understand this statement, let us take a look at the significant aspects that we have to consider in buying the best battery for golf carts.
Significant Aspects To Consider Before Buying Golf Cart Batteries
If you are planning to buy a golf cart battery, there are several important aspects you have to consider before making the purchase. By thinking about these things, you will have all the all the information that you need that will help you decide what the best battery for your needs is. It will also help you to come up with a smart decision that will allow you to pick the right one for your golf cart.
● System Voltage – In choosing the best suitable battery for your golf cart, the first thing you have to consider is the system voltage of your cart. Knowing your system voltage will allow you to make a smart decision in choosing a battery. It will also give an idea if a 6-volt, 8-volt or 12-volt battery is ideal for your needs. The cost of these three battery types are different, so if you know your system voltage, you can decide what can be the best choice for your cart.
● Capacity Rating – Another significant thing to consider before purchasing a golf cart battery is the capacity rating. Thinking about this aspect is significant in choosing the best battery for your cart because it determines how much energy the battery can provide. If your system requires higher power, then you have to go for the battery that will provide enough energy to operate the system. So make sure to consider this thing.
● Life Cycle – Another thing to consider is the life cycle the battery has to offer. It will determine the service life of the battery which will give you an idea whether it is a good choice or not. Having a longer service life will save you money in the future since it can serve you for more years. Meaning you won't have to buy a replacement for a long time. Ideally, you want to go for the batteries that have higher cycles to offer.
● Your Budget – Then you also have to think about your budget. You can't buy the battery that you think perfect for your needs but ending up short in quantity. Making sure that you're within your budget will ensure that you are going to purchase enough battery that will be suitable for your system and your needs. If you are on a tight budget, you can't go for the pricey ones although they can be the best. (You can save money to not buy a battery if you want to recondition your golf cart battery​).
​Conclusion

Answering the question, who makes the best golf cart batteries? is a difficult a thing to do, because there are a lot of factors that may lead to best battery depending on the situation. Identifying the best company is not that important because the most important thing for us consumer is to get the best battery for our needs for the amount of money we are willing to pay. It is more beneficial for us to get the best value for the money we pay for a golf cart battery that we need.