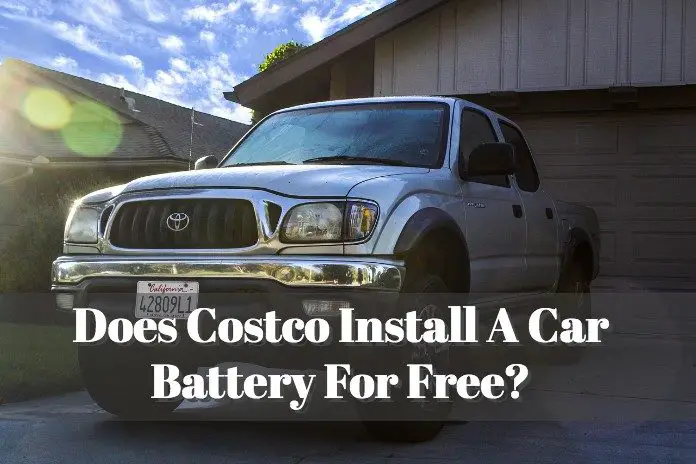 Your current car battery has already started developing symptoms of dying. The slow starts, the cranking sounds, and draining sooner than expected are some of the signs to tell you that it's time to call in for a replacement.
It's at this point that most drivers start looking for the cheapest places to buy a new battery. Costco is usually one of the top options for many drivers because of its top quality stock and incredible price tags.
Does Costco provide battery installation services to their clientele? No, the prominent shop doesn't offer battery installation to their buyers. Once you buy the battery from their store, you have to look for a mechanic to install the new cell on your behalf.
Besides, you can go ahead and carry out the installation by yourself if you are a DIY kind of guy. You only need to know how to go about with the entire process. (Learn how from this article). You should know that most cars and batteries don't require any unique tool and hence, easy to hack by yourself.
What is Costco?
Unless you just landed from space or another continent, the high chances are that you've heard about the name Costco. It is one of the most celebrated retail store known for its huge discounts and incredible bargains. Costco is a one-stop store covering all consumer needs from electronics, groceries, and even clothing.
Most shoppers head to the store intending to acquire home items. Unfortunately, they don't take their time to question what vehicle services they can get from the amazing store. The vast store usually has a tire center and battery center. Therefore, if you require a battery replacement, they are the best place to try.
Unfortunately, they concentrate much on the auto parts supply as opposed to the auto part servicing. Hence, don't expect to have your new battery installed from their premises.
What Battery Brands Can I Find at the Store?
If you've been driving for some time, you probably have heard about Interstate batteries. This line of product is known to be dependable and top-quality. From a professional's perspective, it's one of the best brands you ought to have installed in your car. Costco understands how powerful this brand is, and that's why they only stock the brand.
At Costco, you can find the Interstate battery you want for your motor at a considerable price. Additionally, the cells at Costco usually come with a 32-month warranty, which is a superb deal for any driver seeking a battery replacement.
What is the Cost of Batteries at Costco?
If you're scared about the hyped prices of Interstate batteries that you see on banners, it's time you tried Costco. The store is known for its amazing discounts and prices. The same trend applies to their line of batteries. Therefore, you should expect a low price point when shopping with them. Their deals usually come with 36-months of free replacement, which is much longer as compared to other battery retailers.
You can read the article about how much much are the car batteries at Costco.
How Can I Buy a New Battery from the Store?
If you happen to live near one of Costco's stores, you're lucky because getting the battery you desire is made easy. You only need to pop in their battery center and check for the various cells they have in store for you.
The fantastic thing about heading into the store by yourself is that there is always a professional willing to walk with you through the entire process. By using the help of a pro, you can choose a battery that matches your needs, especially if you're looking to try a different brand.
However, before heading into the store, it's best if you first checked with the store to see if they the specific battery you wish to acquire. You can choose to give them a call or head into their website and search the cells they have in stock. The good thing about checking their online platform is that you can provide your car model, make, engine option, and year of the model.
In return, the site is supposed to give you a 'Fitment Code.' It's this code that you use to get the battery from your local store. You can go ahead and stock-match the 'Fitment Code' through a call, before driving at your local store.
What Should I Do Once if I Buy the Battery?
As stated earlier, Costco doesn't offer any battery installation services to its customers. They focus on the supply of the battery and not the service area. Therefore, you can have a new battery installed by a professional. There are many auto stores around offering installation services.
However, you will have to part with some cash. You can instead opt to install the battery by yourself or ask for assistance from a colleague or neighbor. Most of them will be willing to help at no cost. But, if you're daring fellow, you can go ahead and carry out the exchange by yourself. You only need to follow the following procedure:
1. Ensure that your car's ignition is turned off
2. Uncover the current battery using a wrench
3. Remove the existing battery's terminal cables using a wrench. When disconnecting, always start with the black/negative terminal cable followed by the red one (positive).
4. You should be able to lift the current battery from the battery tray and replace it with the new one you just acquired.
5. Connect the cables you had disconnected from the old battery. Begin with the red cable and then end with the black one/negative terminal. Remember to tighten the terminals.
6. Cover the battery as you had found the old battery.
7. Go ahead and start your car. It should start. If it doesn't, confirm that the terminals are tightened.
Tip: Before tightening the new battery, ensure that there is no corrosion on the cable terminals as this can interfere with the latest cell's efficiency. If you find any rust or corrosion, scrub it off immediately.