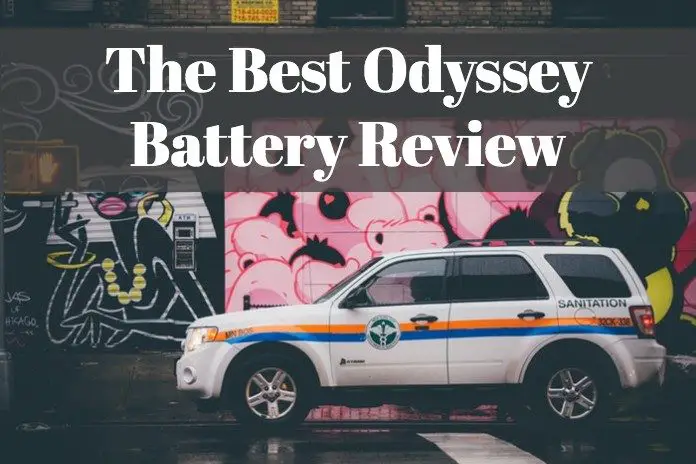 Odyssey battery garnered many positive reviews both in Amazon and other online portals. It has become a worldwide favorite for vehicle batteries. How does Odyssey gain such a massive following? Know more about it.
Odyssey Battery is one of the oldest manufacturers of vehicle batteries. Through the years, they have mastered their crafts in producing the excellent and most productive cells of our lifetime. It has continued to develop and improve through their years of service. Their cells are one of the most acclaimed battery brands in the world today.
History Of Odyssey Battery
Odyssey Battery has a fascinating history to share with us. Before it became a well-known battery manufacturer, it took a lot of patience, understanding, and studies before it came up with an excellent battery produced by Odyssey.
William W. Gibbs, the owner of the Electric Storage Company, bought a patent from a French inventor for advanced battery storage. It all began in 1888, and since then, every time an improvement is made to the batteries, they tried to change people many times.
In the year 2002, Enersys Corporation bought the company which has its main office in Pennsylvania. It was the beginning of the Odyssey Battery. It was known to the world as one of the best-produced batteries for vehicles.
I can describe Odyssey as a lead-acid battery which is valve-regulated having a thin plate. These plates are made from 99% pure lead which is then fitted to the battery which in turn produce more of the plate surface.
This principle allows the battery to be able to produce the power twice as much as ordinary batteries. It extends its life and makes it stand any rough condition and heavy usage. You can benefit from the power of this battery in using heavy equipment especially in the construction field, where it demands a high amount of pressure and energy.
Enersys Corporation is now producing many variants of the Odyssey Battery. Odyssey Racing, Heavy Duty and Start Battery are some of the battery models for Odyssey. Every model of these Odyssey batteries is equated to good performance and excellent power.
There are many other Odyssey Battery Models that you can choose from. Not to mention the excellent customer service they provide and the superb warranty which allows you for a 2-year battery replacement which is not computed on Pro-Rata.
Odyssey Battery is used explicitly for automotive, commercial, marine and powersports vehicles. Based on the comments made, Odyssey always gains positive reviews from all of its clients.
List Of The Best Odyssey Extreme Series You Can Buy Online
As I have mentioned earlier, the Odyssey Extreme Series has a number of a model for their batteries. It would be wise to pick the top Odyssey battery models. This review is based on the likes and comments of consumers who have already tried the product.
ODYSSEY PC680
PC 680 is made for the sporting style of some people. Some vehicles are made for people's sporting style. A powersports vehicle as we may call them needs a powerful battery which can assist it during playtime using the powerful sports vehicle.
Odyssey batteries can handle the challenges posed by extreme situations be it on land, sea or even snow. Odyssey also boasts of its non-spillable AGM patterned design. Using AGM technology, Odyssey batteries are ready to take on any kinds of shocks and vibrations that can potentially damage other cells.
With a pure lead on its plates, this Odyssey model has more than twice the power of different batteries and has the length of other batteries' lifespan thrice. Having more than 400 cycles and a depth of 80%, this battery is sure to last for a long, long time.
Pros:
● It has 70% longer lifespan than other batteries.
● It has the highest recharge efficiency of a sealed lead battery.
● It has a flexible mounting design.
● It is spillproof.
● It is vibration resistant.
● It can tolerate the extreme temperature.
Cons:
● Amazon is not listed as an authorized dealer.
● Battery failed after a few months. (isolated case).
● Warranty issues.
Product Description:
Model: PC680
Item Weight: 15.4 pounds
Package Dimensions: 7.9 x 7.8 x 4 inches
Amperage: 18 A
Voltage: 12 volts
ODYSSEY PC925
Odyssey PC925 is known to give that massive power for cranking engines and a rapid recovery from a low self-discharge. It can survive and take challenges from everyday use or occasional emergency usage your vehicle is overloaded with electronic gadgets and other accessories, surely Odyssey will take on the problem and will never let you down.
Odyssey is mainly designed to keep up with the challenges and changes that may come its way. There is nothing to worry about because Odyssey is made from 100% pure lead which enables it to draw more plates which in turn supplies an authoritative source of energy where it is needed.
It works twice the total power of other batteries working with up to 400 cycles and 80% depth of discharge. Odyssey batteries are created for a range of performance meant for daily use of vehicles, old model cars, 4×4 vehicles, and even off-roaders.
The pure lead combination with AGM technology makes this battery model an excellent product of quality and excellence. You can be sure that Odyssey delivers the right amount of power needed by your cars. Having that impulsive energy cranking engine, you are surefire to start up your engine.
Pros:
● It has a cold crank amps of 330.
● It comes with a 3 to 4 years warranty.
● It has a longer shelf life and expectancy.
● It has a faster recharge.
● It comes with a flexible mounting for your cars.
● It is also vibration resistant.
Cons:
● It self-discharged after a few months when left idle for long.
● Poor customer service.
Product Specifications:
Model: PC925
Item Weight: 26 lbs.
Product Dimension: 11.4 x 10.3 x 8.3 inches
Amperage: 30 A
Voltage: 12 Volts
Odyssey PC1200
Odyssey PC1200 is an Odyssey battery model which is designed to give 1200 Cranking power. It is a pure deep cycle battery which also uses a 100% pure lead which keeps this battery working for so long. The original lead content of this Odyssey battery model gives it an excellent design compared to other ordinary cells.
The good thing about having a pure 100% lead is that the battery is free from corrosion and sulfation problems, which remains to be one of the leading cause of battery deaths.
Whether you use this battery daily or on emergency cases only, Odyssey battery will always be around to back you up. Odyssey is tried and tested to bear all the difficulty of the challenges. Odyssey will substantially distribute a massive engine cranking power, a rapid and amazing deep-cycling capacity of the demand from the modern vehicles.
Pros:
● It has an internal thread brass terminals.
● It is made in the USA.
● It is spillproof.
● It is 100% maintenance -free — no need to add water.
● It is an Extreme Series Battery.
Cons:
● Poor Customer Service.
● Fragile durability.
Product Specifications:
Model: PC1200
Item Weight: 38.2 lbs.
Product Dimension: 7.9 x 6.7 x 6.8 inches
Voltage: 12 Volts
ODYSSEY PC545
This specific Odyssey battery model is meant for Powersports vehicle. A powersports vehicle demands a powerful battery, and that is Odyssey PC545. It gains total power and excellence over the land, sea and even snow.
With its rugged construction, this Odyssey battery can handle any situation and obstruction it may face. Using the sturdy, pure lead plates combined with the AGM designed battery, PC545 can protect the battery from vibration and shock of rough roads, which usually causes the damage in healthy cells.
It is ideal for motorcycles, ATVs, your watercraft, light aircraft, snowmobiles, and even Gyrocopter aircraft. It works for optimized recycling and spillproof for the batteries' protection. You are sure it will not destroy or cause chemical leaks of any matter because it is sealed and protected.
Compared to other batteries, this battery is fifteen times more powerful. It brings more plates into the surface which generates more power and energy to draw from.
Pros:
● It comes with a CCA of 150.
● It offers a better warranty. Two-year full replacement without Pro-Rata.
● It has a longer lifespan.
● It has a longer service life.
● It has a faster recharge.
● It is spillproof.
● It has flexible mounting.
● It is vibration resistant.
Cons:
● It doesn't fit Harley motorcycles.
● It won't hold a charge. (isolated case only).
Product Specifications:
Model: PC545
Item Weight: 11.02 lbs.
Product Dimension: 3.1 x 1.7 x 2.7 inches
Amperage: 12 A
Voltage: 12 volts
ODYSSEY PC1500
This Odyssey PC1500 model is a Marine Dual Purpose battery. The best analogy we can give for the power of this battery is through an athlete who is both a long distance runner and a sprinter. The massive and robust starting power of this battery is merely incredible.
With 400 cycles and 80% depth of charge, it is a deep cycling battery with an in-depth capability. It possesses twice the power and agility and thrice the lifespan of most ordinary batteries.
Having that massive power, this battery is excellent and ideal for trolling, starting and powering the vehicles with fully loaded electronic accessories which is a common sight for most boats and RVs of today.
Since it is well-known as a powerful battery, it is used to power police cruisers, fire trucks, ambulance, 4×4 vehicles, construction equipment, watercraft, aircrafts named it, and probably Odyssey PC1500 is used to power them.
Pros:
● It works on 400 cycles and 80% depth of charge.
● It is a deep-cycle battery.
● It is excellent for powering large equipment and heavy vehicles.
● It is spillproof.
● It uses AGM design.
● It is three times better than an ordinary battery.
Cons:
● There are no recorded negative reviews about this battery model.
Product Specifications:
Model: PC1500
Item weight: 49.5 lbs.
Product Dimension: 10.85 x 6.76 x 7.82 inches
ODYSSEY PC2150
Odyssey PC2150 is heavy duty and commercial battery in one. It comes with a 3/8 inch battery terminal. When we talked about commercial vehicles, we mean a lot of accessories to supply power with. The range of electricity used in this substantial and heavy vehicles have a very high demand for power supply.
The vehicles inside and out, whether it is on the road or a farm Odyssey brings the power and durability to finish what it has started. Odyssey is built in rugged construction and pounded with a 100% pure lead plates and AGM technology. You can be sure that Odyssey batteries, especially this PC2150 will never let you down.
Ordinary batteries are unable to withstand the constant vibration brought about by the exposure to the nature of the job of heavy vehicles and equipment.
When a battery is continuously exposed to vibration, it is more likely to suffer from acid corrosion and chemical leaks. These are the main reason for the shortage of battery life for some ordinary batteries.
That is the strength of Odyssey PC 2150. It seems that it is built to tolerate the massive vibration that these heavy vehicles are bringing into. This battery is sealed to avoid leaks and corrosion.
The weakness of other batteries is the high strength of the battery. It is indeed built to endure all the shock and vibration that heavy equipment trucks and trailers will bring.
Pros:
● It has a CCA power of 1150 amps.
● It offers a better warranty.
● It has a better and longer life cycle with 70% higher than ordinary batteries.
● It has a faster recharge rate.
● It has a higher vibration resistance.
● It can operate on extreme weather condition.
Cons:
● Poor after-sales service.
Product Specifications:
Model: PC2150
Item Weight: 77.8 lbs.
Product Dimension: 16.6 x 11.1 x 12.3 inches.
Odyssey Battery Dealers: Find A Shop Near You!
A great battery like Odyssey is very high in demand. There are many stores where you can get hold of your Odyssey batteries. Whether it is online or on battery shops, Odyssey battery is always available to serve you.
1. Autozone
Autozone is one of the prominent names in the battery business. They are one of the authorized dealers of Odyssey batteries. A great name like Autozone, you can be sure of excellent service and assistance with all your battery needs.
Autozone is available throughout the United States, with its head office in Memphis, Tennessee, they also cater to online orders and has a battery delivery service. If you aren't sure of the size and specifications of your battery, Autozone will be glad to help you out.
2. Walmart
Walmart is known as the number one retail shop in America. They offer a wide array of products to choose from. They have grocery items, furniture, office equipment, and supplies and automotive tools and parts like car batteries.
Odyssey batteries are being sold at any Walmart store. You can even view their products through their online portals where you can also order your Odyssey batteries.
Unlike Autozone, Walmart does not offer battery installation and other services. They sell the Odyssey batteries and it's up to you to do the testing and recharging. I am not even sure if they are offering the warranty for Odyssey batteries.
3. Advance Auto Parts
Advance Auto Parts sells Odyssey batteries, and since it is an auto parts shop, they offer other battery service and installation just like Autozone.
It is operating all across America and some parts of Canada. Advance Auto Parts is a dealer of Odyssey battery. Warranties are honored in this battery store and shop as long as you can present the originally purchased receipts.
If you cannot visit their store, you are free to order the battery online for your convenience. They also offer assistance for online orders and delivery.
4. Canadian Energy
Canadian Energy is another dealer of Odyssey batteries in the Canadian Territory. It caters to all your battery needs and will assist you during and after your purchase of Odyssey batteries.
Canadian Energy is one of the trusted dealers of Odyssey battery in Canada so you can be sure that it has all the Odyssey battery model that you will be looking for.
Are Odyssey Batteries Deep Cycle?
Odyssey Batteries offer both a superb cranking power and significant deep cycle power in one. So, the answer is yes, Odyssey battery is a deep cycle battery.
In an ordinary battery, it only provides a cranking engine power. Others would have only low cycling power; Odyssey has both of them which makes it an array with the power of two.
The answer is straightforward; Odyssey manufacturers have designed it by using a 100% pure leaded plates. The more plates it draws in, the more power it throws back. That is how powerful Odyssey batteries are.
To show you how great Odyssey is in producing its reserve power capacity, it can provide a cranking pulse excessing 2250 amps for a matter of 5 seconds only. No other battery can do that. Even when the temperature and the weather are not so conducive, you can still be able to power up your vehicle.
What Can Vehicles Be Used By Odyssey Battery?
Like what I have mentioned earlier, Odyssey can power almost all kinds and types of vehicles. The number of battery models available for Odyssey makes it adaptable to virtually any car, be it on the land, sea, or on snow, you can count on your Odyssey batteries.
Here are some of the vehicles that can use Odyssey Battery:
● Cars
● 4×4 vehicles
● Off-roaders
● Trailers
● Trucks
● RVs
● light seacraft or watercraft
● light aircraft
● Heavy-duty equipment like payloaders
● Ambulance
● Fire Truck and many more.
How Long Do Odyssey Batteries Last?
Odyssey Batteries are built to last from 8 to 12 years of life under a float or emergency power applications with another 3 to 10-year service life which is already dependent on the nature of its non-float applications.
Odyssey can significantly save you a lot of money, time and effort. It saves you from the hassle of replacing your batteries now and then. Every Odyssey Battery can deliver up to 400 cycles.
It has a longer shelf life compared to ordinary batteries which you need to recharge every 6 to 12 weeks. A full charged Odyssey battery can be stored for up to two years without dying out.
Warranty
Enersys Energy Products, the maker of Odyssey batteries, warrants their products to defect-free.
The warranty period is as follows and begins at the date of purchase of the product.
Extreme Series:
They give a warranty of two years for all Auxiliary power, power sports applications, and non-engine cycling applications.
Three years is given for all commercial, industrial, automotive and marine applications and four years for engine starting applications.
Return Policy
Odyssey Batteries Return Policy may work only for batteries that are directly purchased from them. They may not be able to assure the return policy of each dealer they have.
Odyssey Batteries have this 30-month money-back guarantee. You can return the product in case you are not satisfied with it. They will give you a full refund of the price provided that you present your original receipt of purchase.
To do this, you need to log in into your account to process your request. Then you have to ship the product back to their office in its full packaging. Customers have to shoulder the shipping fees for their product return.
Can You Buy An Odyssey Battery In Canada?
My friends in Canada often ask this question. Odyssey battery is reaching that far because of its good quality and performance. Yes, Odyssey batteries are available in Canada.
Can You Also Buy An Odessey Battery Online In Canada?
Great Northern Battery System is one of the largest distributors of Odyssey Battery in Canada. They also have these online shop where you can buy online and have your batteries delivered to your doorsteps.
What Dealers Should You Go To In Canada?
When you are in Canada, and you want to purchase an Odyssey battery, try to find these dealers, and you will be sure to get your Odyssey batteries.
● GNB or Great Northern Battery System
● Canadian Energy
● Battery World
● Magnacharge Battery
● All Battery Ltd.
● Canada Battery Systems
Warranty In Canada
Odyssey Canada offers a limited 3 to 4 years replacement warranty. This warranty is not pro-rata.
Can You Buy An Odyssey Battery In the UK?
Yes, you can buy an Odyssey Battery in the UK. The UK battery Sales are giving a complete export service in their head office in Kent, England going to your desired destination.
That means the UK is offering Odyssey Batteries. If you are outside the United Kingdom, you may request their office to ship the product to you, and they will gladly deliver it to your country of destination. The shipment, of course, will have to conform to the rules and regulation of exporting and importing goods of the receiving country.
Can You Also Buy An Odyssey Battery Online In The UK?
Yes, many online battery shops sell Odyssey batteries. Groves Batteries is an online battery shop where Odyssey batteries are for sale.
Through their website, you can choose your desired Odyssey batteries and click then add to cart. Groves Batteries will deliver your Odyssey battery right at your doorstep. It is convenient and easy to shop when you are in dire need of a cell.
What Dealers Should You Go To In The UK?
Odyssey Batteries is an international and worldwide product. It goes beyond boundaries and becomes in demand in and out of the U.S.
The United Kingdom has several authorized Odyssey dealers who can cater to your battery needs and requests.
Here are some of the names of the authorized Odyssey dealers in the United Kingdom:
● Platinum International Ltd.
● Tayna Batteries
● Barden UK Ltd.
Warranty In The UK
Odyssey Battery Warranty in the UK lasts from 12 months up to 5 years. This warranty will start on the date of purchase.
Warranty in the UK for Odyssey batteries are similar to the other Odyssey outlets in other countries. It covers all the errors and mistakes which are considered factory defects or human failures incurred during work and manufacturing of materials.
Can You Buy An Odyssey Battery In Australia (Sydney & Brisbane)?
When you need Odyssey car batteries in Australia, particularly in Sydney and Brisbane, there are plenty of battery shops around where you can get hold of one. R&J Batteries Store is spread throughout Australia, and they offer a wide range of choices for your battery needs.
Can You Also Buy An Odyssey Battery Online in Australia?
Just like any country which offers Odyssey batteries, Australia has been conquered by the popularity of Odyssey Batteries. Yes, they have online battery shops too which offer Odyssey batteries online.
Battery Base for one is an authorized dealer for Odyssey batteries. They both have physical and online stores. They also shipped these batteries around Australia.
What Dealers Should You Go To In Australia?
You can find the following dealers in case you are looking for one in Australia. They are an authorized dealer and provider of Odyssey Batteries.
● Superformance
● R&J Batteries Store
● Glynde Batteries
● Hilton Batteries
● HCB Technologies
● Challenge Batteries
Warranty In Australia
The warranty in Australia is no difference with the warranties being offered in other countries. Odyssey Battery has issued the same warranty contract for international conformity.
The regular warranty offered by Odyssey is the 12 months to 5 years free-replacement warranty. Odyssey takes the guarantee issued based on factory errors and defects only.
Odyssey Battery Warranty in the AU lasts from 12 months up to 5 years. This warranty will start on the date of purchase.
Warranty in the AU for Odyssey batteries are similar to the other Odyssey outlets in other countries. It covers all the errors and mistakes which are considered factory defects or human failures incurred during work and manufacturing of materials.
Do Odyssey Batteries Require A Special Charger?
You may take the risk of using other chargers for Odyssey batteries, but that may not guarantee excellent performance and output coming from the battery itself. I have received a few complaints about their Odyssey battery not lasting for a year. The reason for this could be the other charger used for Odyssey batteries.
Odyssey batteries will work well and ideally with an Odyssey Charger. If you want to maximize the power and endurance of your Odyssey batteries, use it with an Odyssey Charger too. They are designed specifically for the Odyssey batteries.
Odyssey OBC-204A Portable Charger
This OBC-204 portable charger from Odyssey is a perfect fit for Odyssey batteries. It is created to charge an Odyssey battery safely and securely fully. You may also charge other batteries that are AGM and flooded lead-acid cells.
This charger is one great combination of Odyssey battery and charger. When you use both, you know that you will be working for a long time with your Odyssey Batteries.
Pros:
● It is a fully automatic charging with 6-stage performance.
● It is an all-digital charging platform.
● It comes with an LED charging monitor.
● No risk of fan failure and expensive replacement.
● It comes in various 6,12 and 20 amps models.
Cons:
● The clamps are small.
● It won't charge a dead battery.
Product Specifications:
Model: OBC-204A
Item Weight: 7 pounds
Product Dimensions: 13.8 x 3.9 x 9.2 inches
Tips For Odyssey Battery Charging Procedure
Proper charging procedures for every battery should be taken. Every cell and not just Odyssey batteries need this particular charging procedure to prolong the lifespan of your batteries.
1. The perfect way to charge an Odyssey battery is to use a charger that works perfectly for AGM batteries like Odyssey. I highly recommend an Odyssey charger for optimum results.
2. Chargers like Odyssey Portable Chargers bears the 14.7 Volts required to charge an Odyssey battery.
3. If you are storing your batteries, better set your charge into trickle mode charging. This mode will prevent your cells from overcharging.
4. Deep discharged batteries will be impossible to recover especially if it sits for a long time under that state. It would be better to bring it to your authorized Odyssey outlet or dealer.
5. Dead batteries are any reading between 11.5 to 12 Volts. This reading will usually end up with a dead engine. Just like a deeply discharged battery, it is tough to revive. It would be better to have a maintenance charger always to keep your battery in 100% charge.
Odyssey Battery remains to be the number one vehicle battery in the world. Healthy cells mean Odyssey Batteries. The only battery in the world that powers the most substantial equipment and machines.