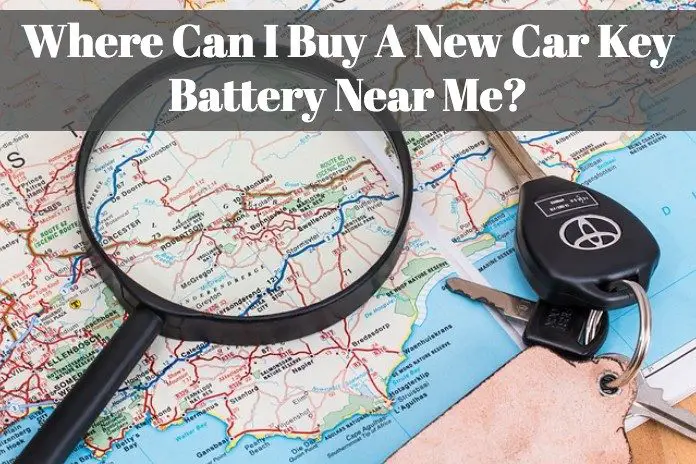 New cars are now equipped with keyless entry. Almost all cars are using remote controls for their keyless entry. However, the batteries that these key fobs are using get busted and need replacement too. Many car owners are confused as to where they can find the replacement for their essential batteries.
Where to buy a car key battery? The key fobs can be replaced at any car dealer near you. If this is not possible, many online shops offer car key batteries. They will deliver this straight to your doorstep. Many auto shops and battery shops offer the battery replacement for a car key fobs.
Some car key fobs are complicated. These key fobs vary from one car model to the other. If the manufacturing of your keys is a complicated one, you will need a unique shop that will cater to this kind of key fob service.
Here are some of the places where you can get your car key battery replaced below!
List Of The Places Where You Can Get A Car Key Battery Replaced
I have listed here some of the places and websites where you can find the right battery replacement for your key fobs. These places are somewhat familiar to you, and there is always something near you.
1. Mister Minit
Mister Minit caters to all kind of repairs and services. They offer shoe repair, engraving, repair of watches, and phone repair.
Having this kind of expertise in the field of repairs, Mister Minit has somewhat gained popularity in this kind of business. You can depend on its reliability in servicing old worn car key batteries.
Mister Minit is an expert in car keys and transponders. You can have a wide range of options at Mister Minit. They offer car keys, housing for car keys, shells, original keys, and spare keys for emergency purposes. All keys come with a guarantee of one year.
They give a quality replacement for all types of car keys. Be it a manual key or a remote, Mister Minit will guarantee the quality like the genuine keys.
It is one of the great options for replacement. Having a spare key will save you from the hassle of getting stranded just because you lost the only key you have.
For Remote And Integrated Keys
At Mister Minit, your high-end crucial remote-controlled duplication. It is a fast and effective remote and key cut and programming services. It uses the latest duplication machinery for keys.
Mister Minit possesses the biggest range of car keys that will fit a different range of car makes and models.
Here at Mister Minit, they offer original factory remotes and keys and a reasonable price for high-quality products and services.
They use their new flip range for keys where you can have your remotes and keys become integrated into one flip key. It is available in different colors.
What Does Mister Minit Do To Worn Out Key Shells?
In Mister Minit, they have a variety of replacement for their car key shells or housings. If the car key shells have already been damaged, or the blade has broken off, or just a product of being worn out over time, then replacing your car key shells could be the better alternative.
Mister Minit will remove the working internals of the damage car keys and will replace it in a new key shell. This will extend the life of the original car keys.
2. Keyless Shop
The Keyless Shop showcases a variety of selection for keys and remotes for almost all types of car makes and models. Keyless Shop cut and programmed chip keys, remote, smart, and transponder keys.
They do their precision cuts of key duplicates in their outlet at Sears. As of today, Keyless Shop has 16 retail stores located in eight states along with their partnership with Sears.
The Keyless Shop has its specialization in remotes and keys of cars of all makes and models. They use specialized tools in cutting and programming their remote and keys to control your vehicle in just a matter of minutes.
The price of the service is very affordable!
One good thing about Keyless Shop is their new emergency locksmith service. The service is only available in chosen Keyless Shop with a locksmith who has a state-regulated license certification.
If you need an extra spare key, visit any Keyless Shop, and they will provide you with a second copy of your core. This emergency lockout service starts at a meager price of $35.
3. Buyabattery Shop
Buyabattery Shop is a battery shop outlet which also sells car battery key. In Buyabattery Shop, they can replace your car battery key with a high-quality replacement vehicle keys. One good thing about Buyabattery is that they deliver this product right at your doorstep.
This battery shop is one of the leading battery specialists online. They can supply car key batteries for all type of vehicles and models. Therefore, Buyabattery Shop has everything you need for your car key battery.
If you intended to replace your car key batteries and wanted the best factory-fitted key for your car, you could find the size and part number inside the key fob itself. You may also check your handbook or manual for accuracy.
4. Buffalo Mobile Locksmith
Buffalo Mobile Locksmith offers its services along Erie County New York. They have a variety of lock and other vital services. Buffalo Mobile Locksmith can deliver all kinds of key duplicates or car key replacements.
They guaranteed a speedy reply and arrived at the area in 20 minutes after your lockout call. The best thing about Buffalo Mobile Locksmith can duplicate your car keys on the spot. You can save a lot from these since you will no longer have to hire a tow service to a mechanic shop.
Buffalo Mobile Locksmith will go to you where you have locked or forgot your keys. They have all the tools needed to replace your keys right away. They make keys right where you are. They can provide critical duplicates for types and makes of car models.
All locksmiths from the Buffalo Team are licensed and well-trained. They respond to a call within 20 minutes, and their service is available 24/7 7days a week.
5. Autozone
We all know that AutoZone is one of the leading auto parts and battery shop across the United States and Canada. Aside from offering car services and batteries, they also provide car key battery replacement.
They offer a variety of battery brand you can choose from. At AutoZone, they will gladly do the battery replacement for your car key batteries.
Where Can You Buy A Honda Car Battery Key?
Honda Car Battery Key can be bought anywhere. Although most car experts and owners advised that you purchased these batteries at the dealers, you can save a lot and get this car battery key at any battery and auto shops.
But if you like to be sure that you get the right size and voltage for your car key remote, you may get it at your nearest Honda dealer. If this is not possible, you may check the battery size and voltage inside the key fob itself. Most key fobs use a 3V battery.
Check the related article on how to change a Honda car key battery if you are interested in.
Where Can You Buy A Toyota Car Battery Key?
Just like a Honda car battery key, you can purchase a Toyota Car Battery in any outlet or auto shops. You may ask the auto shop where you bought the battery to replace the battery if aren't so sure on how to do it.
If you are replacing this battery all by yourself, make sure that you have checked the right battery size and voltage that will fit your key fob. To do this, you can check the specifications inside the key fob.
Check the related article on how to change a Toyota car key battery if you are interested in.
How Much Does It Cost For A Car Battery Key?
Car battery keys wouldn't cost you more than $2. Most car battery keys cost around $1.5 to $1.95 only.
Car battery key replacement doesn't cost that much. You can choose the best brand, like Energizer and Duracell.
What Kind Of Battery Should You Purchase For Your Car Key?
One of the smart way to determine the type of battery used in your key fob is to check the one in current use. Bring the old battery with you when you buy the new one.
In case that you lost the old battery, almost the majority of the critical fobs would use at least two Li-ion or a 3V battery coin.
Some websites will ask you to enter the car make and model year to find the right battery for your remote.
How Long Will A Battery Last In Your Car Key?
Most key fob will last for 3 to 4 years. When you reached the fourth year, your battery is already in for a replacement.
If your car key battery is in the brink of failure, you may experience a lot of hassle and issues in getting to your car without using your keys.
Make sure that your key fobs are working to make it fully functional and hassle-free!
AutoZone Vs. Locksmith: Programming Our Key Fobs
AutoZone can do the programming for your car remotes and key fobs. However, comparing the services between AutoZone and Locksmith, I honestly say that locksmiths are way far better in doing this kind of job.
Locksmiths are experts in this particular field. Though AutoZone can perform this role as well, the expertise needed when it comes to key fobs are better handled by the experts.
Finding a place where to buy a car key battery is relatively easy. With the sites and websites I mentioned above, you can easily spot the place to go to replace your car key batteries.