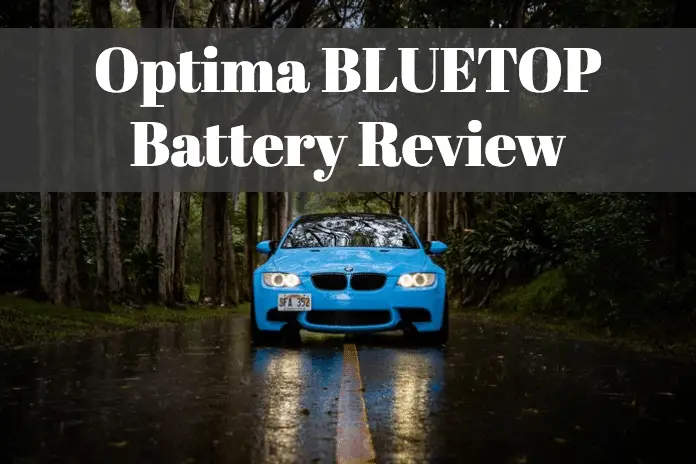 Optima BlueTop batteries were manufactured for an original purpose and specifications. As part of the Optima battery product line, it carries with it the type of quality and excellence that Optima batteries have been known for. See how BlueTop batteries excel in its particular specification.
What Are Optima BLUETOP Batteries?
The BlueTop Battery is one of the high-performance AGM batteries with more recharges and exceptional working time compared to a conventional battery. To top it all, it provides you with an outstanding resistance against vibration, excellent power delivery and faster recharge time.
To sum it up, the BlueTop Battery is maintenance-free. There is no need to worry about your batteries anymore. It also means that you will have more time to spend enjoying your life and have fun.
The BlueTop Battery is ideally made for marine boats. This marine boat battery is very flexible and ideal for people who need a sure starting and hard cranking power. It is also suitable for RV use.
List Of BlueTop Battery And Dimensions
I present to you a list of the following BlueTop battery variants. Under the BlueTop Optima Model, every unit has its definite purpose and dimension. I know your needs, and Optima batteries have identified each particular need of a vehicle. So every model unit of BlueTop cells is patterned against the need of every car.
OPTIMA BLUETOP D27M
Optima BlueTop D27M batteries are also known as the marine batteries. They also possess profound cycle powers for GPS systems, bilge pumps, stereos, fish finders, and other high-tech electronics device and gadgets.
Aside from providing a high energy source, this battery also provides enough power for cranking the engine. These battery types have a longer lifespan and more vibration that work against resistance. Optima BlueTop D27M batteries are 100% spillproof and mountable in any position.
This battery type has a fast charging ability. We all know that vibration can cause a lot of damage to the Battery. To protect this from happening, the cells in BlueTop battery are compressed tightly in supportive chambers which are secured with a reliable cast cell connections.
Having this feature in a this battery, it results in 15 times more resistance against vibration than other conventional type batteries. These tightly sealed cells allow the Battery to be mounted in multiple positions without leaking or creating damage to your Battery and vehicle.
The glass mat separators provide excellent absorption of electrolytes to avoid spilling the acid.
Pros:
● Spiral Cell technology works for increased superior vibration resistance.
● Increased durability and longer lifespan.
● Tightly compressed cells work for an added vibration resistance.
● Mountable in any position.
● It is maintenance-free.
● It has a dual purpose.
● It works well with marine transportation and RVs.
Cons:
● This product is not available on Catalina Island.
● Shorter lifespan. (isolated case).
● Issues against warranty claims.
Product Specifications:
Model: D27M
Item Weight: 53.8 lbs.
Product Dimension: 12.2 x 6.8 x 8.7 inches
Voltage: 12Volts
OPTIMA BLUETOP D31M
This Optima battery, Optima BlueTop D31M is created as a dual-usage battery. It works for both starting and deep cycle use. It is suitable for people who need a sure and robust cranking power. This battery is maintenance-free. It can be a powerful source for their marine transportation like boats and ships. They can work best even for RVs.
What's impressive about this Optima BlueTop model is that it works even during a bad weather condition. Like other Optima batteries, it is also designed with its unique SpiralCell which provides a stronger and cleaner power source.
With the presence of the SpiralCell technology, you and your family and even the environment are well-protected against the chemical corrosion that might be brought about by the acid leaks.
Its high reserve capacity will give you a longer shelf-life for your batteries, which ensures the power when you need it and as you need it. This Optima BlueTop D31M is specially designed for recreational vehicles or RVs and boats with heavy accessory loads.
Pros:
● It is a 12Volt battery.
● It bears 900 cold cranking amps.
● It has a reserve capacity of 155 minutes.
● It works with optimal power even in extreme weather.
● It has 15x more resistance against vibration.
● It is spillproof.
● It is a dual-purpose battery.
Cons:
● Poor technical support and after-sales service.
● Amazon doesn't honor the warranty.
● Battery froze and died during the winter season. (few isolated case only).
Product Specifications:
Model: D31M
Item Weight: 59.8lbs.
Product Dimension: 12.8 x 6.5 x 9.4 inches
Voltage: 12Volts
OPTIMA BLUETOP D34M
This particular BlueTop D34M model is specially created for a dual-use. Just like any other battery, it works for both starting and deep cycle use.
Using this high-performing battery in your boat or RV would mean an superb working time and condition. It also means more recharges compared to an old model battery. It will be the perfect marine battery for your boats using trolling motors, and vehicles that use the extensive and substantial electronic system.
This Battery also works well with recreational vehicles or RVs which provides comforts that used to drain your batteries quickly. To top it all, it gives excellent vibration resistance. BlueTop D34M also makes an efficient delivery of power and faster recharging time.
With that being said, using this specific battery model gives you the liberty of time to enjoy other things in your life. It means more time to enjoy life and family.
It is a flexible marine battery and RV battery in one. Ideal for people who love s strong cranking powers for their engine and a maintenance-free battery as their power source.
Pros:
● Powers up with 750 cold cranking amps.
● With Optimal starting power even in bad weather.
● Mountable in any position.
● Adaptable as a boat or RV battery.
● With reserve capacity of 120 minutes.
● Has 12Volts capacity.
● Works with 3x more recharge than other marine Battery.
● Spillproof.
Cons:
● Poor after-sales service.
● Some batteries don't last a year. (isolated case).
Product specifications:
Model: D34M
Item Weight: 43.5lbs.
Product Dimension: 10 x 6.9 x 7.8 inches
Voltage: 12Volts
Optima BlueTop Battery Life Expectancy
Many are asking about the Optima BlueTop Battery Life Expectancy. Optima BlueTop is designed to last for a more extended period. However, there are no guarantees as to how long these batteries will last.
According to some reviews and reports I have received from people who have tried and used the Battery with proper maintenance, the Battery lasted for a range of four to eight years. It extends the lifespan of an ordinary battery thrice.
Of course, this is not always the case, as I have read some circumstances where Optima batteries did not even last for a year, I consider this an isolated case only. There are many factors to consider in expecting the longer lifespan of a battery. Faulty charging and reduced maintenance will shorten the lifespan of your Battery.
I, therefore, recommend that you buy an Optima charger to work compatibly with your Optima batteries. If these are not possible, you have to make sure that you are using a quality marine charger that comes with AGM settings.
BlueTop batteries are expensive and you can equate it with the quality you are getting from it.
Warranty
Optima batteries, BlueTop included do not offer a lifetime warranty. Instead for each battery type, they provide a solid two years replacement warranty.
To claim for your warranties, make sure that you have a copy of your original receipt. The two-year warranty replacement begins at the time of purchase, and if you want to claim your warranties, you need to present your receipt.
I have received a lot of complaints about warranty issues on Optima batteries. I just haven't verified yet, but maybe they lack the original receipts when filing their claim. Most of these complainants would say they encountered warranty issues with Optima.
Optima offers a three-year warranty. You can have this when you purchased a Digital 1200 charger from Optima too together when you bought your Optima battery. You get the assurance that your Battery will work effectively using an Optima charger plus you get an extension for your warranty period.
Don't forget to keep the original receipt of purchase so you will not experience any problem when claiming your warranty.
Can I Use A BlueTop Battery For A Car?
Yes, you can use a BlueTop battery for car use. Though it is labeled as a marine battery, there is no reason why you shouldn't use it for your cars.
I have received a lot of testimonies from Optima users claiming that BlueTop Battery works well in their cars. Amazon reviews can also testify on these. It was only labeled as the marine battery because it is more adaptable and suitable for marine usage.
Boat batteries are exposed to extreme weather condition and liable for getting wet. The unique features of BlueTop cells make it more suitable as a marine battery. But, it will work well with any car because it has a dual purpose and a deep cycle battery too.
What Kind Of Battery Is An Optima BlueTop?
BlueTop Battery from Optima is a marine battery. The specifications and special features of BlueTop cells cater well to the need for a boat or marine battery.
Boats and ships are exposed to an extreme situation at sea, and it is often abused with the rough seas. Because of these reasons, Optima BlueTop meets all the standards and requirement of a marine battery, withstanding all extreme weather conditions and situations.
Is Optima BlueTop an AGM Or Gel Battery?
BlueTop Battery is not a regular flooded battery nor a gel battery. To be exact, Optima BlueTop is classified as a SpiralCell Technology AGM batteries.
A gel battery is just a modification of ordinary lead-acid automotive and marine Battery. A gelling agent is added to the electrolyte to decrease the movement in the case of the cell.
In general, gel batteries are non-tolerant to high heat, and we charged them at a lower power compared to a traditional AGM battery.
Buying A BlueTop Battery At Walmart Is Good Idea Or Any Recommended Places?
Walmart offers all kinds of products and services. They even have online stores where you can purchase their products online and be delivered right at your doorstep.
Walmart is an accredited dealer for Optima batteries. You can buy these batteries on online Walmart websites or visit any Walmart stores to purchase your Optima batteries. However, Walmart limits itself to merely selling the batteries. They will not install it for you nor test or charge your Optima batteries.
If you know what you are buying and is so sure about the battery you have purchased, it is ok to get it from Walmart. However, if you have other concerns about your cells, you better get it from reliable battery dealers and auto shops in one. They will sell you with the battery, at the same time check, charge and install it for you.
Here are the other names of trusted dealers and battery shops where you can find Optima batteries:
● Autozone
● NAPA auto parts
● Advance Auto Parts
● Canadian Auto parts
What If I Live In Canada, Can I Still Purchase Optima BlueTop Battery?
Yes, you can, Canada already offers Optima batteries. Canadian Auto Parts is one of the official dealers of Optima batteries. Therefore, you can always purchase your Optima battery variants at any point of Canada through their online portal and get the battery delivered right at your doorsteps.
Best Charger For Optima BlueTop Battery
Optima BlueTop battery will function well if used with an Optima charger. BlueTop Battery will still work even when you used it with a regular charger. However, you have to make sure that the charger you used has low cycle settings for an AGM battery.
Never use a gel or flooded battery charger. Using these for your Optima battery will damage it and may shorten the battery life. Optima batteries function with a high and advance technology, so you should use it with a high-quality charger too.
Optima BlueTop Battery is known to be the best marine batteries. Though it is marine, you can still use it for your automobiles. You can make sure the battrey will work well if it is paired with the best charger for Optima BlueTop Battery.
For you to learn more about Optima Battery then i have provided each specific model to take a look at below:
OPTIMA Battery (Read here).
RedTop Battery (Read here).
YellowTop Battery (Read here).